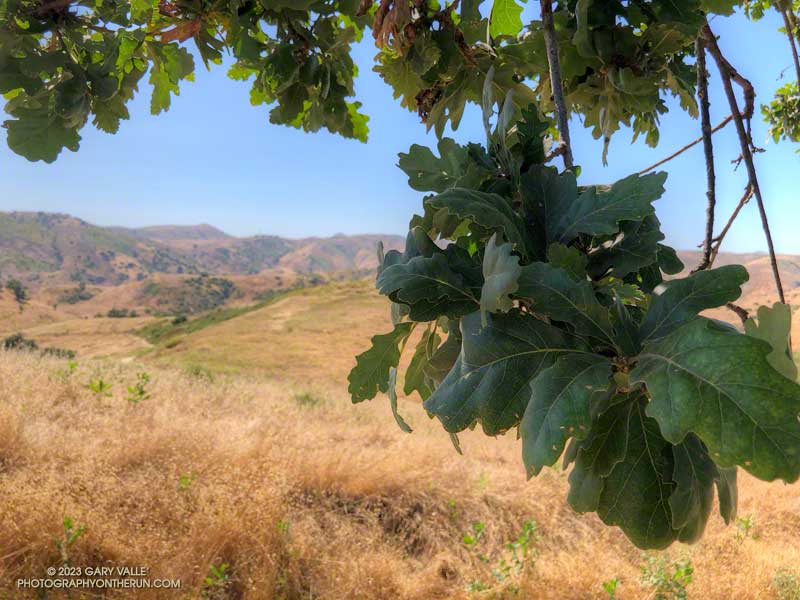 After the Ahmanson Blue Oak in East Las Virgenes Canyon died this Winter, I started to search for another blue oak (Quercus douglasii) in Upper Las Virgenes Canyon Open Space Preserve (aka Ahmanson Ranch). Blue oaks are rare at the southern limit of their range, but I was hopeful that if there was one blue oak at Ahmanson, there might be another.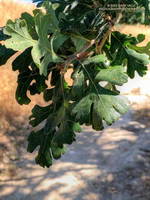 Typically, blue oak leaves are noticeably different than valley oak leaves. The Jepson eFlora describes the leaf margins of blue oak as being more or less entire, wavy, or more or less lobed. The leaves of the Ahmanson Blue Oak fit this description. Valley oak leaves are usually much more deeply lobed and readily identified.
Recently, while on a run, I noticed an unusual oak near the top of a service road on the western margin of Lasky Mesa. Its leaves are not deeply-lobed and are a bit more dusky than the usual valley oak leaf. But the tree doesn't look quite the same as the Ahmanson Blue Oak. One difference is that the shape of the leaves is not as uniform as those of the Ahmanson Blue Oak. This might be due to the wet 2022-2023 rain season and the flourish of leaves that resulted. And, as with the Ahmanson Blue Oak, this oak was burned in the 2018 Woolsey Fire, and its trunk is partially hollow.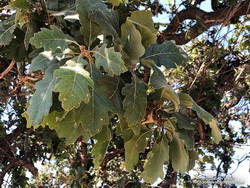 Based on its leaves, the "West Lasky Mesa Oak" could be a blue oak, blue oak hybrid, or valley oak hybrid. A 2002 study of a mixed stand of blue and valley oaks found that appearance can be misleading. When DNA tested, four of the five hybrid-appearing oaks in the study were not classified as hybrids. Of the four trees deemed most likely to be hybrids, only one oak was intermediate in appearance.
Although it seems unlikely this tree would have been overlooked, I could find no specific reference to the oak in the various studies and surveys done of Ahmanson Ranch. Please get in touch with me if you can provide additional information about this tree or how a DNA analysis can be arranged.
Some related posts: Ahmanson Blue Oak, Ahmanson Blue Oak Succumbs to Climate Change