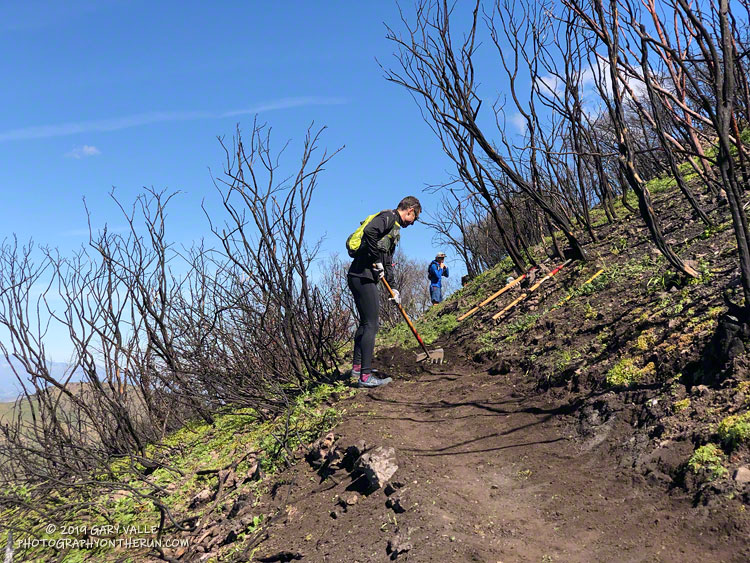 The trail work schedule of the Santa Monica Mountains Trail Council (SMMTC) is impressive to say the least. According to their Trail Work Statistics page, in 2018 the SMMTC was responsible for over 4,300 person-hours of work related to "establishing, preserving and maintaining the public trail system throughout the Santa Monica Mountains and adjacent areas."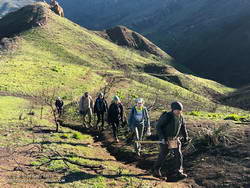 Saturday, 27 trail runners assisted the SMMTC in trail work on the Chamberlain Trail segment of the Backbone Trail. The trail runners were organized by Backbone Trail Utra race director Mike Epler, who recently joined the board of the SMMTC. Ultra race director Keira Henninger volunteered and also encouraged runners to participate.
The Chamberlain Trail took a hard hit from the Woolsey Fire and subsequent rains. Under the direction of SMMTC crew members, runners restored washed out and rutted sections of trail and removed burned limbs, rocks and other debris. The trail was restored from its junction with the Old Boney Trail up to Chamberlain Rock. In preparation for future trail work, hundreds of limbs were removed from the trail up to its junction with the Tri Peaks Trail.
Many runners ran to the Chamberlain Trail, did the trail work, and then ran back. This was a good way to get in a good long run and contribute to the restoration of the trails damaged in the Woolsey Fire.
Additional photos and info are available on the SMMTC Facebook Page and web site.