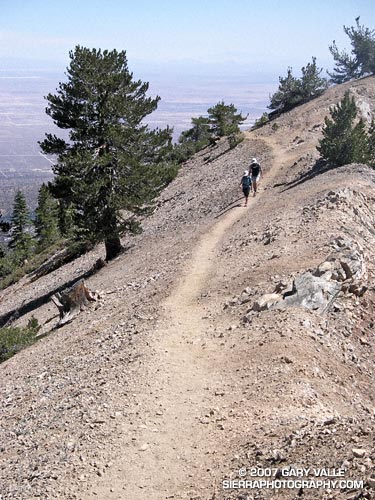 With Southern California in the throes of a record dry year, and temps in the valleys topping 100°F, this San Gabriel Mountains course was a good way to get in a long trail run at a cooler, higher elevation and enjoy some mountain scenery. A big plus was that there would be a source of ice cold spring water at the turnaround point.
Concerned that another usually dependable water source might already be dry, we started our run from Vincent Gap in the wrong direction, headed downhill on the Mazanita Trail. A couple of drainages and about a mile and a half later we were happy to hear — and then see — a diminished, but still gurgling ribbon of water.
In a couple of weeks, I might do the Islip – South Fork – Vincent Gap – Baden-Powell – Islip loop as part of my training for the Mt. Disappointment 50K. With Lamil Spring likely very low, and the connecting segment of Highway 2 closed, the loop would be difficult to do without this key water source.
Soon we were back at Vincent Gap and switch-backing up Mt. Baden-Powell. Even though mountain temps had recently been in the 90's, today the temperature was comfortably cool. That would be the surprise of the day. Ocean-cooled breezes would keep the mercury in check and make the running along the ridge between Baden-Powell and Little Jimmy almost Spring-like.
Including the extra bit at the start, the run worked out to be about 22 miles, with an elevation gain/loss of over 5000 ft.
Related posts: Snowless San Gabriels, Complications, Heat Wave