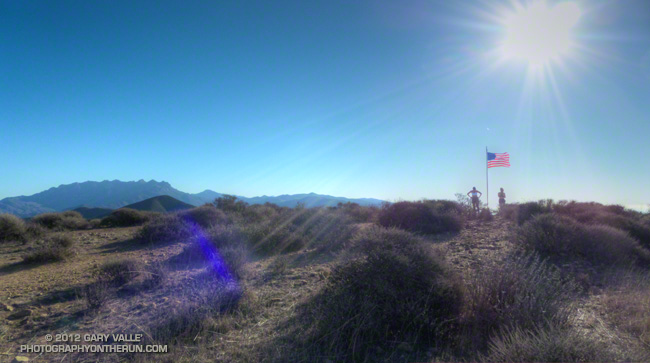 Running should be fun! If you're comfortable running twenty miles (round trip) and are familiar with the trails of Pt. Mugu State Park this training "challenge" is way to get in a mix of running on pavement, dirt roads, single track trail, fast downhill, runnable uphill, and a brutal hill climb, and wrap it all up in a fun-to-solve route-finding puzzle.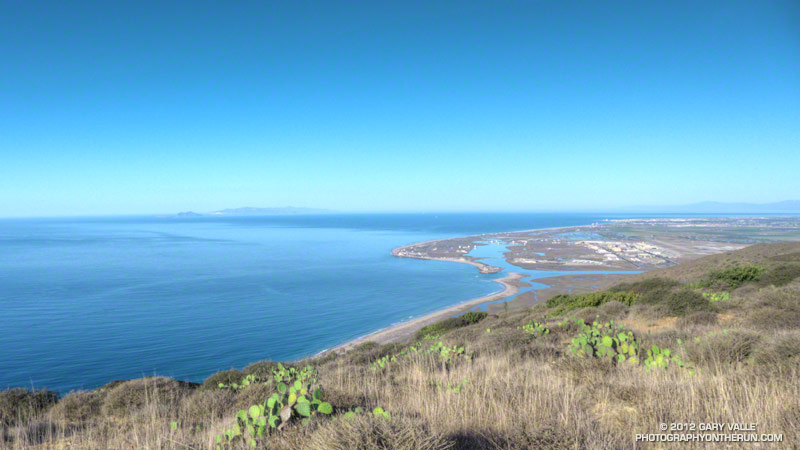 The "challenge" is to run from the trailhead at Wendy Drive & Potrero Road in Newbury Park to the flagpole on the summit of Mugu Peak. That's it — the route you use is entirely up to you, as are all other details of the run. At the top of Mugu Peak (if it's not foggy) you'll be rewarded with great views of the coast near Pt. Mugu, the Channel Islands, La Jolla Valley and Boney Mountain.
I ran it last Sunday. A middle-of the pack runner, my training goal was to do it in under two hours. My time was 1:55:30. Turns out my route was about a half-mile longer than what I believe to be the shortest possible route. I pushed the pace some, but have a race coming up, so didn't go all out.
Based on my times in some similar XTERRA races I'm thinking my race pace goal should be around 1:40. A very fast runner might be able to do it in around 1:10. You'll have to decide what's a good goal for you. Just remember that once you get to Mugu Peak, you have to get back! (And keep an eye out for those pesky rattlesnakes and other wildlife!)
Update April 12, 2014. In near perfect weather did the peak from Wendy in 1:42:02.
Update January 5, 2014. In less than ideal conditions did the peak in 1:47:49, so it looks like 1:40 should be possible for me.