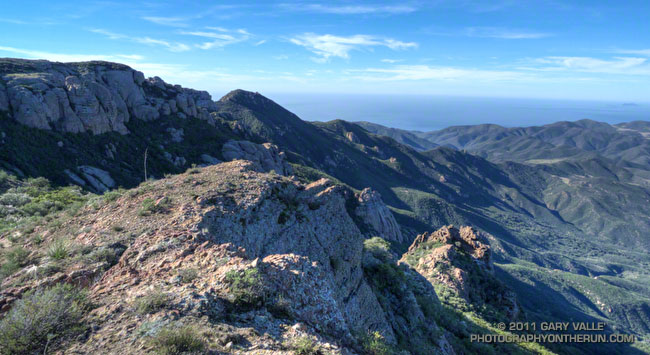 The plan had been to do a run similar to last week's Serrano Valley run, with more of an emphasis on distance, than elevation gain. As I worked up the long switchbacks on the Old Boney Trail I debated the benefits and disadvantages of more — or less — elevation gain. Just two weeks before the Bandit 50K would additional elevation gain hurt or help in that hilly race?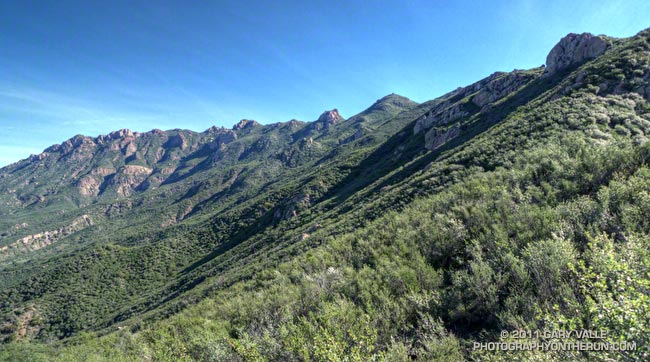 It really didn't matter. Now was now, and the race was a distant two weeks away. The route up the westernmost of Boney Mountain's two north ridges was one of my favorites — especially when the weather was clear and the views from the mountain were far reaching. I'd done the Old Boney Trail last week. This week I'd hang a left at the ridge and go up and over the peak.
Anticipating a warm day I'd left my pull-on sleeves in the car. Bad choice. Strong Santa Ana winds scoured the ridge, and the weak morning sun was lukewarm at best. The thick chaparral and tall rock formations provided some protection from the wind, but from time to time the trail would emerge onto a rocky prominence or exposed ridge and remind me just how cold 60 degrees can be!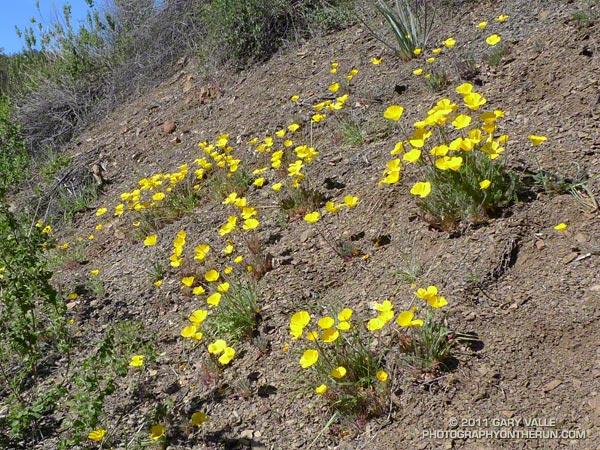 Contrary to experience, the wind moderated a little as I worked up the ridge. It was still very windy, but the buffeting winds I'd expected at the saddle north of Tri Peaks didn't happen. Even so, it felt great to work around the east side of Tri Peaks and into the full sun on the south side of the peak! The change in the "feels like" temperature must have been 25 degrees! It would be shorts and short-sleeves comfortable for the remainder of the run.
As it turned out the elevation gain going up and over Boney Mountain and down the Chamberlain Trail wasn't that much more than the up, down, up route along the Old Boney Trail — and the running was oh so good down the recently repaired Chamberlain/Backbone trail!
Some related posts: Boney Mountain Morning, Conejo Valley Sun and Boney Mountain Clouds