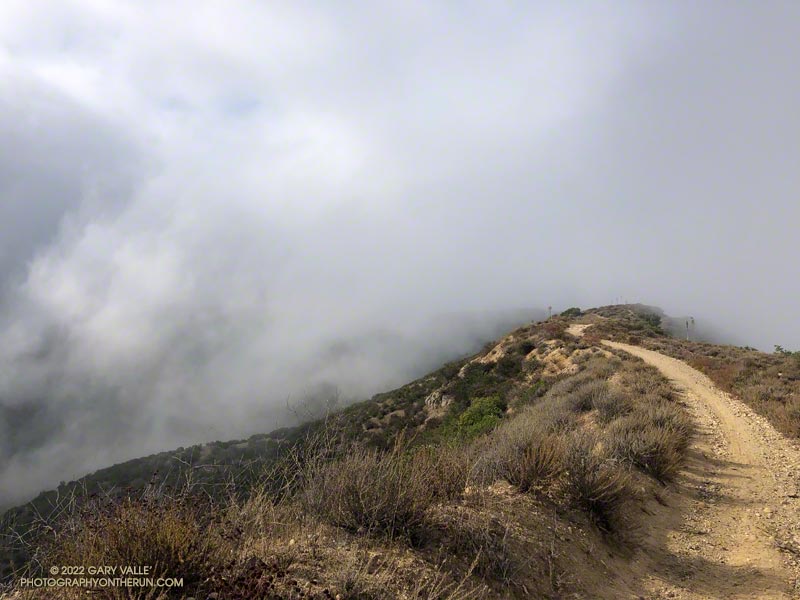 Wait a minute… I stopped running down the hill and walked back to look at the sizable pile of scat.
I was on Rocky Peak Road, at about mile 3 of an extended version of the Chumash – Las Llajas loop, and just past the top of the Chumash Trail.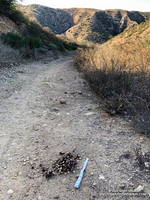 No doubt about it. It was bear scat. The bear had been eating holly-leaved cherries, and the scat was full of cherry pits. Over several decades of running Rocky Peak Road, this was the first time I'd seen evidence of a bear in the area.
Bears aren't particularly common here, but they are seen from time to time. I wondered if this was the bear that had been discovered in the kitchen of a Simi Valley home in early September.
Bears have also been captured on local trail cams. In December 2015, the NPS photographed a bear and her cub feeding on the carcass of deer in the Santa Susana Mountains. Even more remarkable, in July 2016, a bear was photographed in Malibu Creek State Park by an NPS camera trap.
This morning, I looked for bear tracks around the scat, but thunderstorms and bike traffic had erased them. After taking a couple of photos, I continued toward the high point of the loop, "Fossil Point."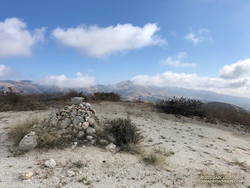 What had started as a very foggy morning was transitioning to a cool Fall day with a mix of sun and clouds. From the cairn at Fossil Point, Oat Mountain was still partially shrouded by clouds. Below the overlook, I spotted a couple of mountain bikers working up the road. The ride up Las Llajas Canyon has become a popular e-mountainbike ride, and e-bikes would be the only type of bike I would see on my way down the canyon.
The run down Las Llajas Canyon was pleasant and fast-paced. Lately, I've been doing a variation of the loop that jumps over to the Marr Ranch Trail using a trail that splits off the Coquina Mine trail. This route gets you up and out of the canyon and onto a ridge with good views of the surrounding terrain. It's a bit more adventurous and adds a little mileage and elevation gain to the usual loop. The Coquina Mine trail is easy to miss — it branches off Las Llajas Road after passing the towering cliffs.
Here's an interactive, 3D terrain view of a GPS track of the extended Chumash – Las Llajas loop. The map can be zoomed, tilted, rotated, and panned using the navigation control on the right. Track and placename locations are approximate and subject to errors. Poor weather and other conditions may make this route unsuitable for this activity.
Some related posts: Chumash-Las Llajas Loop, Not So Flat Las Llajas Canyon, Exploring Las Llajas, Marr Ranch Wildflowers