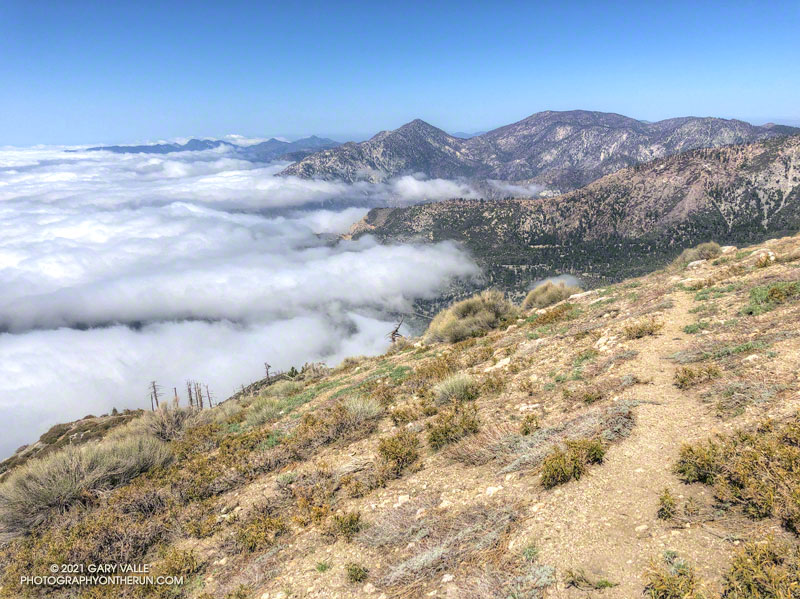 Don't let there be a headwall… Don't let there be a headwall… That's what I kept muttering to myself as I climbed up the decomposing granodiorite rib. The topo map showed the rib connecting directly to the crest, but from my vantage point I couldn't tell if that was actually going to happen.
So far the the difficulties had been manageable. The route had been steep and loose, but for the most part it was at an angle that probably wouldn't result in a long fall or slide. Probably. But if it got any steeper it could be a problem, and I really didn't want to downclimb 1200′ of crumbly rock and loose debris.
Working up the rib I had gone from "secure spot to secure spot," trying to minimize my exposure in between. In a few places a climbing move had been required to avoid disturbing fractured or delicately balanced rocks. On one section it had been necessary to crawl through a mountain mahogany, its stiff limbs poking fun at my route-finding. Higher up, the solid handholds of a massive gray boulder had helped to ascend a particularly loose section.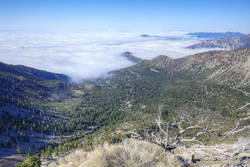 As I climbed, I considered alternative routes, surveying the terrain to my left, right, and along the crest. I couldn't help but wonder if there was a better line. But I needed to be patient. The rib was working and I just needed to stay on it.
I tried to recall if I'd ever been on anything like this. I'd certainly done a  few class 2 descents on Sierra peaks that were loose. The closest comparison might be some of the "knapsack passes" in the Sierra. These are usually class 2 or class 3 routes that go over notches and connect one high basin to another. They are often steep, loose and wet, and can hold snow or ice throughout the Summer.
And then suddenly I was on top. There was no more rib to climb. While I enjoyed the problem solving, it's not a climbing route I would recommend, and I probably won't repeat it.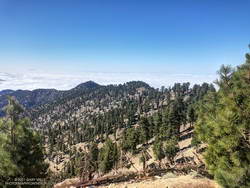 Climbing the rib was my overly-creative way of doing a loop that included the Hawkins Ridge Trail. I'd done Middle Hawkins (Peak 8505′) as a side trip on a run from Islip Saddle to Baden-Powell, but had not gone down the ridge as far as Sadie Hawkins (Peak 8047′).
It was the perfect day to be running the Ridge Trail. The weather was far better than during my last run in the area. Temps were about 20 degrees warmer, and while it was still breezy, the wind was nowhere near the strength of a couple weeks ago. A sea of marine layer stratus filled the valleys and extended into San Gabriel Canyon, providing an "above the clouds" backdrop befitting of a mountain trail.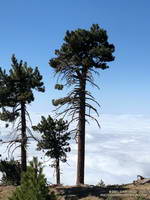 It didn't take long to get down to Sadie Hawkins and to follow a use trail to its rounded top. From the top, Mt. Islip and Windy Gap could be seen to the northwest, and Mt. Wilson area peaks to the southwest. On the south-facing slopes below Sadie Hawkins there was a stunning number of young pine trees — a veritable tree farm of regrowth from the 2002 Curve Fire.
Winding down the use trail from Sadie Hawkins, I rejoined the main Hawkins Ridge Trail and followed it down to the saddle between Sadie Hawkins and South Mt. Hawkins. Two weeks ago, I'd followed the road up to South Hawkins and then descended the north ridge directly. This time I ascended the Hawkins Ridge Trail, carefully following the trail. I was surprised to find it didn't ascend the north ridge directly, but wrapped around the west side of the peak.
Later, as I ran down South Mt. Hawkins Trail/Road, I thought about the amount of rocky debris along and on the road. It emphasized the friable nature of the rock above, and how often there are larger rockslides. When I reached the point on the road where I could see the route I'd climbed, I just shook my head. Who the heck would want to go up there?
Related post: Windy Windy Gap and Sunny South Mt. Hawkins