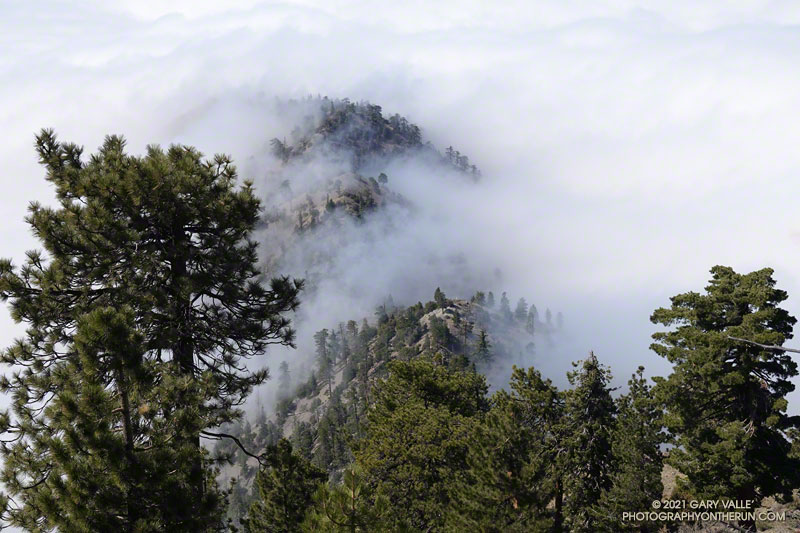 When I started up the trail from Vincent Gap (6585′), the thermometer on my pack read 36°F. For the first few switchbacks, the trail was immersed in cloud. Beneath the tall conifers, the sandy soil was dotted with droplets of moisture extracted from the fog.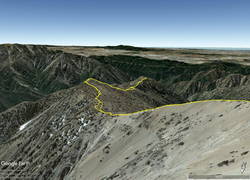 I was on my way to Ross Mountain (7402′), one of the most isolated peaks in the San Gabriel Mountains. At the end of a rugged, 3-mile ridge extending south from the summit of Mt. Baden-Powell, the peak overlooks the vast canyons of the Sheep Mountain Wilderness.
This morning, the canyons were filled with a 7000′ deep layer of stratus clouds. With a weak upper low over the Southern Sierra, the question of the day was whether the cloud deck would work up the ridge from Ross Mountain and completely envelop Baden-Powell.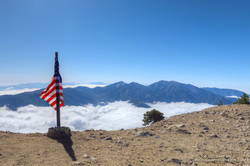 Well acquainted with the trail up Baden-Powell, a combination of fast-hiking and slow-jogging put me on top in a relatively comfortable 90 minutes. I'd tried not to overdo the pace, knowing from previous experience that the return from Ross Mountain would be the tough part of the day.
From the summit of Baden-Powell, I gazed across the sea of clouds to Mt. Baldy. There was almost no snow on its steep north face. San Gorgonio Mountain was visible in the haze to the left of Pine Mountain and San Jacinto Peak in the gap between Dawson Peak and Mt. Baldy.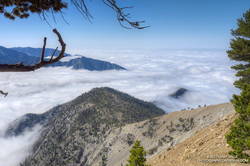 Walking a little down the south side of Baden-Powell, I got my first good look at the South Ridge. Ross Mountain was nearly covered in clouds. Guessing that the deck of clouds might deepen, and a few minutes might make the difference of being in the clouds or out, I started to jog-lope-shuffle down the initial steep slope.
The title photo was taken a bit past Peak 8375, about 1.7 miles from Baden-Powell and 1.2 miles from Ross Mountain. At that time the clouds were spilling over the ridge near Peak 7407 and Peak 7360+, and around Ross Mountain.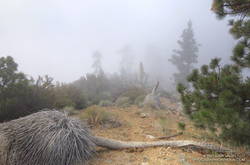 The clouds added an aesthetic element to the adventure, as well as a little uncertainty. They accentuated and embellished the terrain, while threatening to make the conditions wet, cold and disorienting. Being familiar with the route helped me to enjoy the experience more than the concerns.
After navigating the false summits along the final stretch of ridge, I finally reached Ross. And, of course, it was in the clouds. That was the tradeoff for the spectacular views of the clouds along the ridge.
I didn't spend much time on the summit. The more time I could spend out of the clouds, the more enjoyable would be the 2200'+ climb back to Baden-Powell.
It took a little over two hours for the clouds to chase me back up the ridge, but only an hour to run the four miles down from Baden-Powell to the foggy trailhead.
Related post: Excursion to Ross Mountain