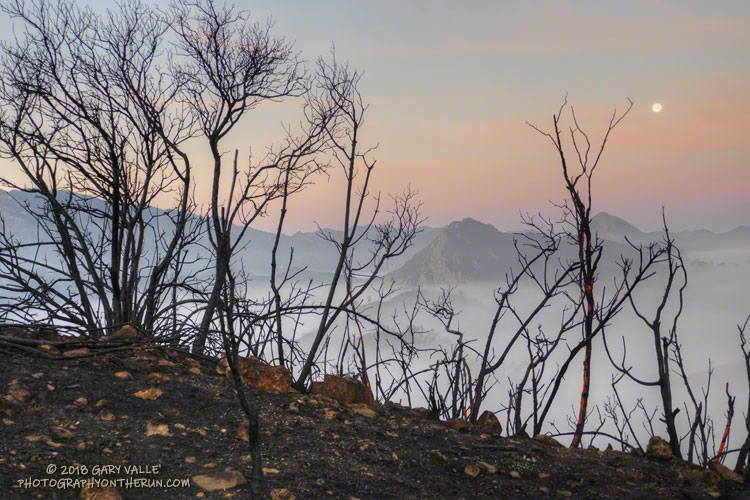 I'd done a long run the day before in Pt. Mugu State Park, so the plan for this morning was to do a short run and check out the Woolsey Fire impacts between Century Lake and the M*A*S*H site in Malibu Creek State Park.
In addition to checking the condition of the coast live oaks and other native trees, I was curious to see how the coast redwoods along the Forest Trail had fared. These trees were planted nearly a century ago and in recent years have struggled with the drought. Had they survived the fire?
It had been about a year since I had checked on the redwoods. The good news is that a few of them still appear to be viable. The bottom limbs on some of the trees were scorched, but I think they will be OK. Of the 16 or so redwoods, about five have died, about five are in poor shape, and five or six appear to be OK. There is one young naturally occurring tree that was severely scorched and may not survive. We'll just have to see.
While there was some damage to the M*A*S*H site, the picnic tables, ambulance, and signpost made it through the fire. Some repairs will be necessary.
I was supposed to turn around at the M*A*S*H site, but you know how that goes. I wanted to see "just a little" of the Bulldog climb… and a little more… and a little more. I finally ran out of time about 2.5 miles up Bulldog Mtwy and headed back.
Even when you expect it, it is sobering to see areas of high soil burn severity. Thirty-six years of robust chaparral growth were just… gone. Also startling were the stream flows and debris flows that resulted from "only" about 1.5 – 2.0 inches of rainfall in early December. An atmospheric river event of the magnitude that caused the Malibu Creek flooding in February 2017 would be catastrophic.
A lot of work had been done on Bulldog Mtwy. It had been repaired and graded. Where there was still brush and trees along the road the branches had been trimmed!
Here are a few photos taken along the way.
Some related posts: Malibu Creek Flooding, Malibu Creek State Park Redwoods: Fighting the Drought