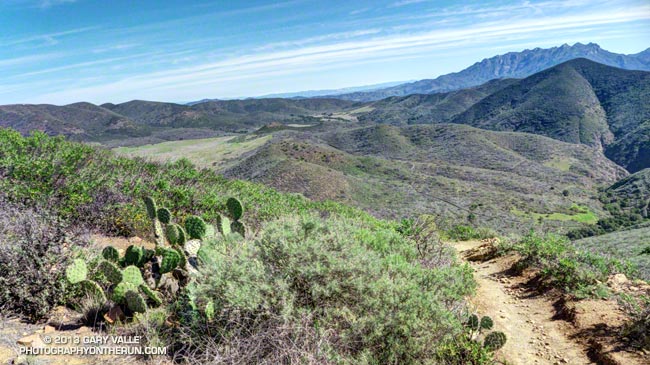 What time was it? 1:00 AM? And I was going to get up at what time? 6:00 AM? And do what? Run to Mugu Peak?
It made sense a few days ago. Do a long night training run, sleep for a few hours, then get up and do another long run.
I couldn't believe it when I woke at 6:15. OK… OK… I'll give it a shot. Bleary-eyed, I drove to Wendy Drive.
The forecast was for another day of record-breaking highs. By Southern California standards most of the Winter had been cool and sometimes even cold. I was sure that a temperature of 80-something was going to feel more like 90-something.
Most of the first few miles of Sycamore Canyon were downhill, shaded and cool. As I passed the Danielson Multi-Use Area it was weird to think that last night we had turned around just a couple of miles up the Backbone Trail from here. Danielson will be around mile 59 of the ultra. Running in the dark and after many miles of technical single track trail, Sycamore Canyon road will hopefully provide at least a bit of mental relief. One foot in front of the other…
This morning I continued to follow the Backbone Trail down Sycamore Canyon and then up the Wood Canyon Vista Trail to the Overlook fire road. Here the Backbone Trail continues left (south) to the Ray Miller Trail. Today I turned right and at the 4-way intersection a little down the road turned left and headed into La Jolla Valley — one of the "must visit" places in the Santa Monica Mountains. Mugu Peak is on the south side of La Jolla Valley, and stands above the coast at Pt. Mugu.
The title photo was taken from the trail on the east side of Mugu Peak. The eastern part of La Jolla Valley is on the left (above the cactus) and La Jolla Canyon is on the right. Boney Mountain is in the distance. The Chamberlain segment of the Backbone Trail descends from near the high point on the right side of the skyline.
There are several ways to return to Wendy Drive from Mugu Peak and my favorite route is nearly all single track trail. Not today. Today wherever there was a choice I took the one that would have the most shade and water faucets. That meant descending Hell Hill instead of Wood Canyon Vista Trail, and running back up Sycamore Road instead of using the single track trails on the west side of the canyon.
It took a while, but eventually I made it back to the car.
Some related posts: Back to Mugu Peak; Laguna Peak, La Jolla Valley, and the Channel Islands