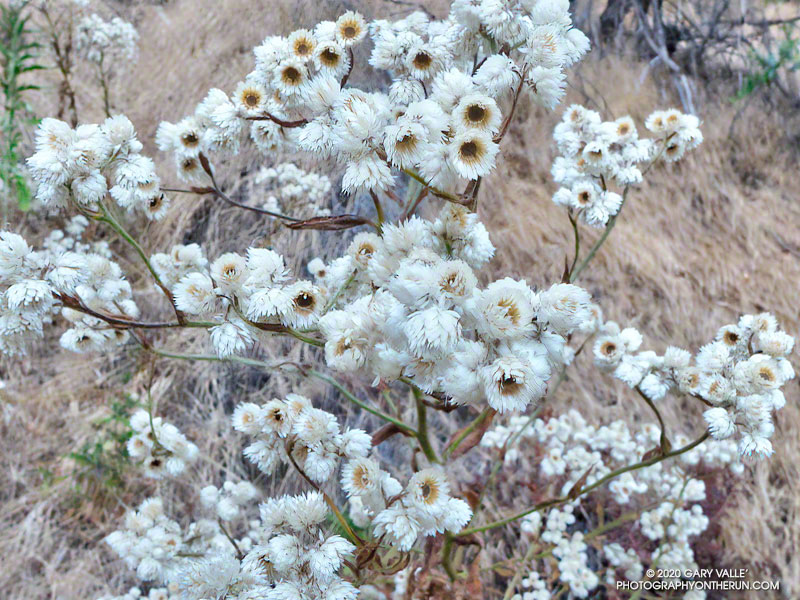 While doing the Bulldog Loop earlier this year, I encountered an enthusiastic hiker who commented, "Aren't the wildflowers amazing?"
He added, "There are so many, uh… What's it called? You know, the one that smells like maple syrup."
"Do you mean Everlasting?" I asked.
"Yea, that's it! California Everlasting," he exclaimed.
That's what people remember about California Everlasting — the leaves smell like maple syrup.
The somewhat nondescript plant is especially abundant this year.
As suggested by its name, California Everlasting (Pseudognaphalium californicum) can be found along trails in Southern California chaparral and coastal sage-scrub just about any month of the year.
The plant looks like it is blooming in the title photo, but each "petal" is a botanical structure called a phyllary. The phyllaries form a protective covering around a disc of tiny flowers as they develop. Here is a closer view.
The plant dries out in the Summer, but the flower-like structures often remain – an everlasting dried flower arrangement.
The photos are from this morning's run to Calabasas Peak on the Secret Trail.
Related post: Secret Trail to Calabasas Peak