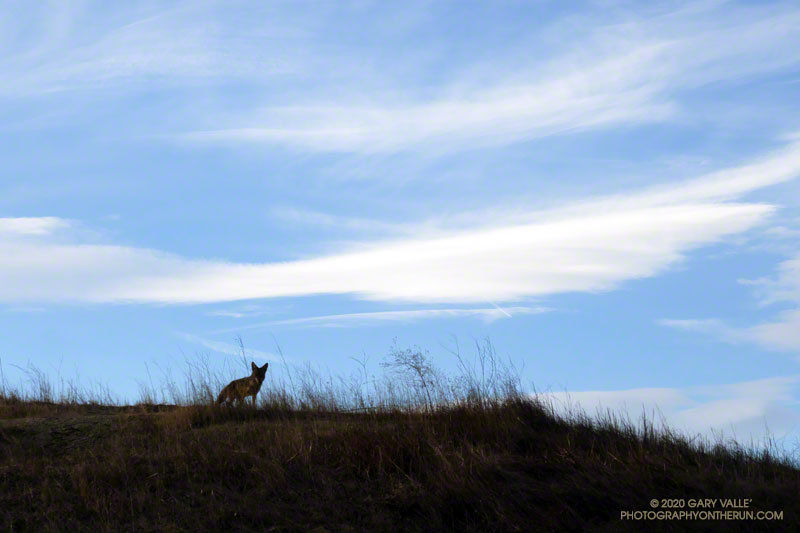 This afternoon I was running down a single-track trail at Upper Las Virgenes Canyon Open Space Preserve (Ahmanson Ranch), when I noticed a coyote on a parallel track across a small ravine. From time to time I would stop and watch the coyote, and from time to time it would pause and watch me. After a few minutes, it went its way, and I went mine.
Earlier in the run I'd been in the same area when a coyote, running at full speed,  came blasting down a single-track trail. It turned into the brush about 30 yards in front of me. I'd seen similar behavior once before when one coyote was chasing another. In this case a hiker followed the coyote down the trail. In my experience, it usually take more than a simple encounter with a hiker to panic a coyote.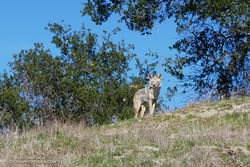 Update February 18, 2021. The coyote pictured on the right was in the same area as the coyote in the title photo. When I first encountered the coyote, it had just crossed the trail and was below me. For some reason it reversed its course and climbed to a viewpoint above me, and watched as I ran up the trail. After a few moments it ran back down hill, retracing its original course across the trail. It was one of the most well-conditioned coyotes I've seen out at Upper Las Virgenes Canyon Open Space Preserve (Ahmanson Ranch).
I have had a couple of unusual encounters with coyotes out at Ahmanson. One time, a coyote decided to run with me, as if on a leash.
Some related posts: Coyote Tag, Coyote Tag II, Coyotes Are Curious Creatures