The photograph Moon and Sycamores was taken at dawn, near Malibu Canyon and Piuma Road, at the start of this morning's Bulldog Loop trail run in Malibu Creek State Park.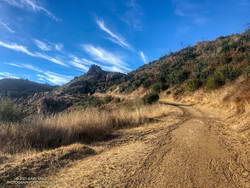 According to the Tempe sensor on my pack, the temperature ranged from a chilly 32° F along Malibu Creek to around 65° F on the crest. It was a near perfect morning to be outdoors.
Here's an interactive, 3D terrain view of my GPS track from a previous run of the Bulldog Loop from Malibu & Piuma.
Some related posts: Bulldog Loop Plus the Phantom Loop; Trees, Bees, and a Washed-Out Footbridge on the Bulldog Loop in Malibu Creek State Park; After the Woolsey Fire: Bulldog Loop