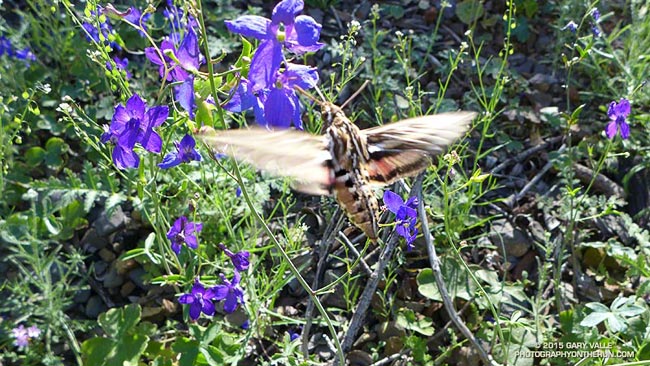 I was on the way back from Mugu Peak and about four hours into my run. I'd stopped at an exposure of Miocene age shale along the Upper Sycamore Trail. The gray-brown rubble is home to an intensely blue-purple wildflower called spreading larkspur (Delphinium patens ssp. hepaticoideum).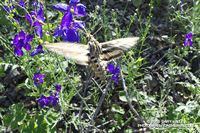 I'd just snapped a series of bracketed exposures of one patch of the flowers when suddenly there was the bumblebee-on-steroids buzzing of a hummingbird in front of me.
At least I thought it was a hummingbird. It sounded like a hummingbird and was about the right size. Its blurred wings were shaped like a hummingbird's. It flew with the precision of a hummingbird, darting from flower to flower, deftly feeding on each blossom's nectar using its oddly shaped beak.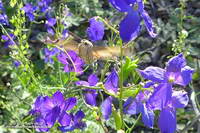 But it wasn't a hummingbird — it was a hummingbird moth — a white-lined sphinx (Hyles lineata). I'd read about hummingbird moths, but to have one suddenly appear and start feeding on a larkspur plant I happened to be photographing was extraordinary.
Apparently the problem of feeding on the high-energy nectar in certain types of flowers is sufficiently definitive as to have produced a very similar evolutionary solution in wildly different organisms.
The sphinx moth is described as flying like a hummingbird, but which lineage produced this elegant solution first? It may have been the moth! A trace fossil of a sphinx moth found in Early Eocene Asencio Formation of Uruguay appears to predate the earliest known Oligocene fossils of hummingbird-like birds! In any case it appears that both hovering moths and birds co-evolved with the flowering plants on which they feed and pollinate.
Related post: Hummingbird Stories