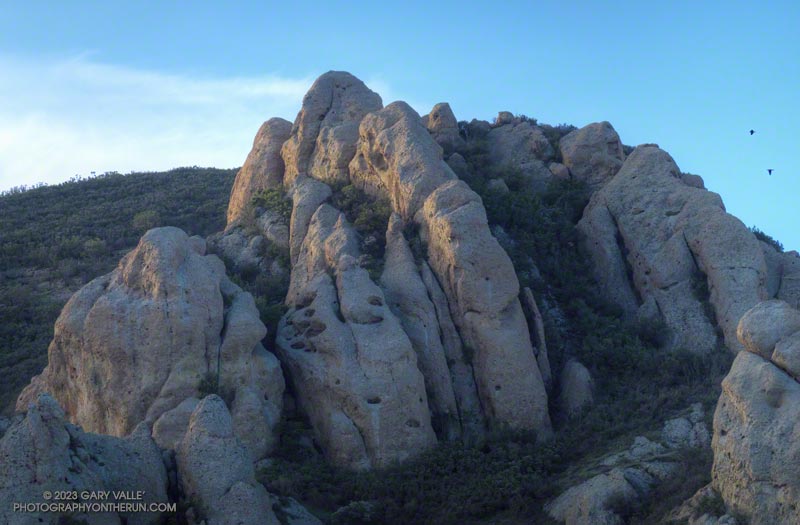 Continuing the theme of checking out local trails following the December 2022 – January 2023 series of rainstorms, this morning I did a trail run/hike from the Wendy Drive Trailhead in Newbury Park.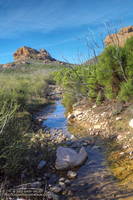 I was able to check out several trails — and get in a little climbing — by doing Sandstone Peak via Boney Mountain's Western Ridge and Tri Peaks and then returning by way of the Backbone Trail, Big Sycamore Canyon, and the Upper Sycamore Trail.
The surprising headline is that the trails on this route held up better than expected. Although there was a lot of rain, the rain rates in this area must not have been excessive. Generally, it looked like streams were able to handle the runoff.
It didn't come out of it unscathed, but the Blue Canyon segment of the Backbone Trail was less damaged than usual. Some route-finding through the cobble was required, but a new use trail was already starting to emerge. I was also surprised to see that several oft-repaired sections of the Upper Sycamore Trail were mostly intact. There was a lot of creek hopping on these trails, but it was good to hear the burble and gurgle of the rejuvenated streams.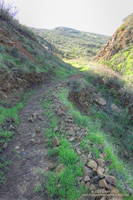 Work done by the Santa Monica Mountains Trails Council prevented additional damage. In the past, a section of Old Boney segment of the Backbone Trail between the Chamberlain Trail junction and Blue Canyon has always had significant problems following rainstorms. Water would run down the trail, eroding ruts and exposing rocks. In one place, most of the trail had collapsed into the canyon. Thanks to the SMMTC, I ran it today without a second thought. A steep section of the Backbone Trail above Chamberlain Rock, repaired by the SMMTC, also held up well.
Speaking of which… As I was running down the Chamberlain Trail, I'd noticed some shoe tracks that were also headed down. This was a bit odd because there weren't any tracks coming up. The puzzle was solved when I caught up to three hikers near Chamberlain Rock. They had also done the Western Ridge of Boney Mountain and were going to complete the loop via Sycamore Canyon.
Here is an interactive, 3D terrain view of a GPS track (yellow) to Sandstone Peak from Wendy Drive via Boney Mountain's Western Ridge and Tri Peaks, then returning via Big Sycamore Canyon and the Upper Sycamore Trail. Two alternate routes are also shown (red). To change the view, use the control on the upper right side of the screen. Track and placename locations are approximate and subject to errors. Poor weather and other conditions may make this route unsuitable for this activity.
Some related posts: Looking for Boney Mountain, Pt. Mugu State Park Debris Flows and Flash Floods (December 2014), Sandstone Peak from Wendy Drive