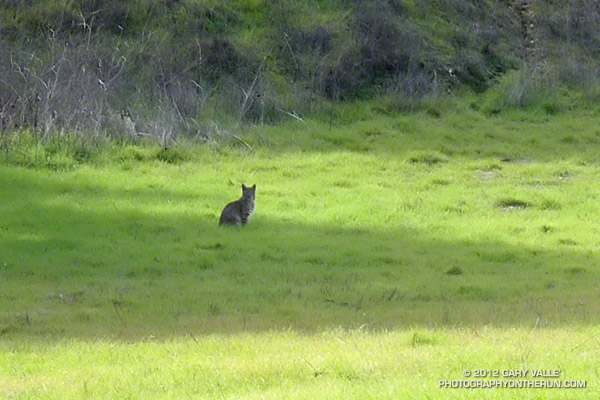 My rambling New Year's run at Malibu Creek State Park had begun on the Cistern Trail. I thought I might run to the base of the Bulldog climb and then back on Crags Road to the main parking area. From there maybe I'd do the Phantom Trail loop or run over to Tapia Park and then back to the Lookout Trail.
The route really didn't matter. It was a classic Southern California Winter afternoon — cool, but not cold, with a mix of clouds and sun. Grasslands were green with December's rain, and the low sun cast a golden hue over the rocks, oaks and chaparral.
I was running west on the Yearling Trail on the Reagan Ranch property when I spotted a blocky form sitting in a shadow at the edge of a field. About 100 yards away, its profile was accentuated by a backdrop of bright green. Too small to be a mountain lion, too large to be a domestic cat, the wrong shape and behavior to be a coyote, it had to be a bobcat.
Bobcats can be very bold. Last year while warming up for a race at Crystal Cove State Park, I rounded a corner and 50 yards away a bobcat was sauntering down the road. I continued at an easy jog up the road and the bobcat continued walking down the road toward me.  I expected it to dart into the bushes, but it just kept walking toward me.
When we were about 20 feet apart, it casually stepped to the edge of the road, near some brush. I slowly approached and then stopped. The cat was five short feet away, with her back to me and head turned toward me. I was astonished to be so close, but a little unnerved by the animals brazen behavior. After what seemed like minutes, but was probably only 10-15 seconds, we both continued on our way.
The Regan Ranch bobcat wasn't nearly as cooperative. I snapped a couple of photos at max zoom (about 90mm) and then as I took a couple of steps in the cat's direction it loped up the hill and into the oaks.
Some related posts: Hawk, Bobcat and Rabbit; Coyote Tag