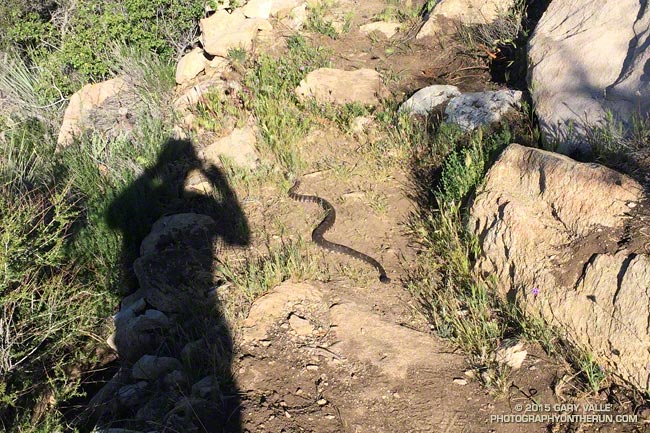 Although we are still experiencing a record-breaking drought, this rain season did provide a little short term relief to plants and wildlife. Compared to last year rainfall is up 27% at Los Angeles, 39% at Santa Barbara, 57% at LAX and 63% at Camarillo/Oxnard according to NWS data.
The increase in rainy season precipitation dramatically increased plant growth, the abundance of wildflowers, and temporarily increased the availability of key resources to wildlife.
Another thing it seems to have increased is the number of rattlesnakes. Over the past two years I have seen maybe two rattlesnakes total on my runs in the Santa Monica Mountains, San Gabriel Mountains, and in the Big Bear area and on San Gorgonio Mountain. In the Ahmanson Ranch – Cheeseboro area I've seen none.
With the increase in rainfall this season that has changed. The title photo was taken on the Leona Divide 50/50 course March 28. That day I encountered two rattlesnakes and talked to a runner that had seen three on the course the previous weekend. From March 26 to April 2 I encountered rattlesnakes on three out of four runs. Two of those were at Ahmanson and it seemed everyone I talked to on the trail was seeing rattlesnakes.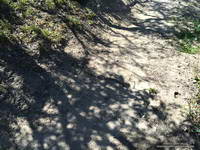 There has also been an increase in the number of encounters with non-venomous snakes as well. I've seen a number of gopher snakes and a California striped racer. Friends have mentioned seeing a ring-necked snake and California kingsnake.
Since the weather has cooled I haven't encountered any rattlesnakes, but have seen their tracks. When I run, especially on single-track trails, my snake radar is on and I'm definitely on the lookout for the hard-to-see beasts.
Some related posts: Southern Pacific Rattlesnake on the Burkhart Trail, Southern Pacific Rattlesnake, Big Southern Pacific Rattlesnake at Ahmanson Ranch