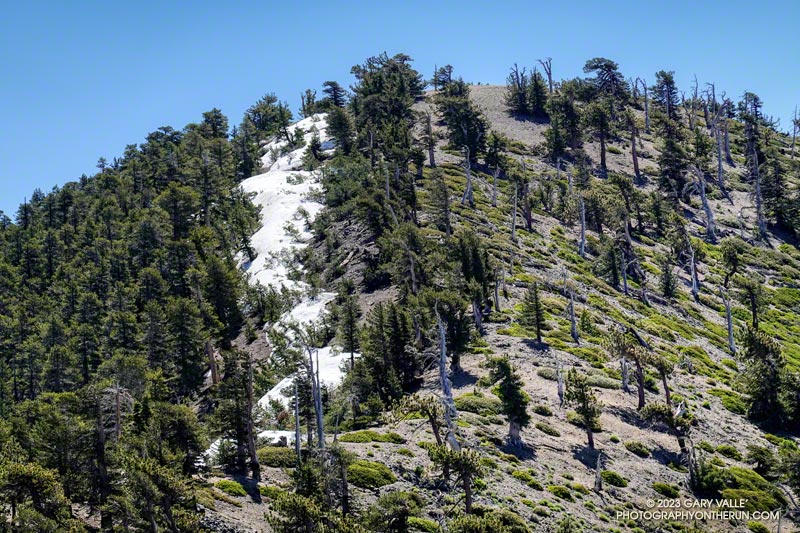 You might not see it from the Los Angeles side of the mountains, but there is still some snow on the higher, north-facing slopes of the San Gabriel Mountains.
During and after storms, snow-laden southerly winds dump their load on the backside of the crest, creating deep drifts, cornices, and compacted slabs of snow. This snow is often the last to melt, not only because it doesn't face the sun, but because there is more of it.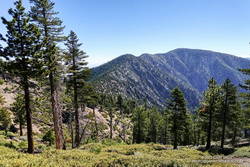 This morning, I was doing an out-and-back from the Windy Gap Trailhead in the Crystal Lake Recreation Area to Mt. Baden-Powell. The Windy Gap Trail climbs 1730′ in 2.6 miles, joining the PCT at Windy Gap. From there the trail follows the spine of the San Gabriels past Mt. Hawkins, Throop Peak, and Mt. Burnham to Mt. Baden-Powell.
I usually do this run from Islip Saddle, but with Angeles Crest Highway (Highway 2) closed between Red Box and Vincent Gap, the Islip Saddle trailhead isn't accessible.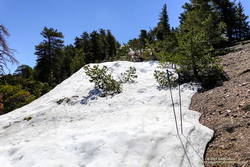 Whether you start at Crystal Lake or Islip Saddle, the length of the run is about the same — a bit over 16 miles. The main difference is that the Windy Gap Trailhead is about 800′ lower in elevation. On the plus side, the Windy Gap Trail is very scenic; on the minus side, it faces south and can bake in the midday sun.
On today's run, I encountered the first snowbanks at an elevation of 8870′, near the Dawson Saddle Trail junction. Out of curiosity, I tried to follow the trail and soon realized that was a mistake. I was more or less forced to skirt the downhill side of a lengthy and deep drift — it being too steep and icy to cross directly.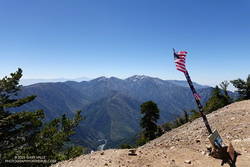 For the remainder of the run, I switched to the early season tactic of staying on the crest when the trail deviated onto shaded, north-facing slopes. These areas might have significant snow on the trail. This only happens in a few places, such as when the PCT works around Mt. Burnham. There is a use trail that ascends the west ridge of Mt. Burnham, and then returns to the PCT.
The conditions today are reminiscent of those found here in early July 2005. July 3rd of that year there was still snow on the summit of Baden-Powell, and there was deeper snow in the areas where there was snow today. We had a lot of storms this rain season, but in Rain Year 2004-2005 Downtown Los Angeles (USC) recorded about 9 inches more rain than during the 2022-2023 rain year!
Here is a short slideshow of some photos taken on the run. I've also included a few photos from the run to Baden-Powell in 2005 for comparison.