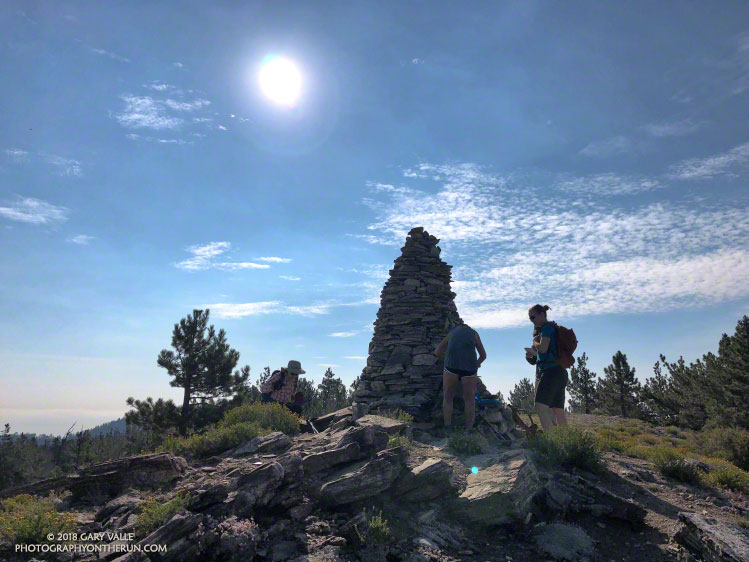 Yellows, reds and greens marked its location, but the seep above Sheep Camp was dry. As I approached the camp, the uppermost campsite was empty and I wondered if the spring at the camp was also going to be dry. If it was, I was going to have to revise my running plan.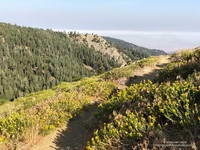 So far the run had gone well. From the Chula Vista parking area (8350′), I'd run the service road up to Mt. Pinos (8831′), then followed the Tumamait Trail west to Mt. Abel Road. Along the way Sawmill Mountain (8818′)and Grouse Mountain (8582′) had been short side trips; and from the end of the trail, the summit of Mt. Abel (8280′) was a short hike up through the pines.
Compared to the triple-digit temperatures in the parched West Valley — as high as 117 °F this July — the temps on the Tumamait Trail had been wonderfully cool. The hotter than average weather seems to have become the new norm, and also — unfortunately — the resulting wildfires.
On a run here Last July, smoke from a fire near Lake Cachuma had nearly enveloped Mt. Pinos. Today several fires were burning in California, and once again smoke could be seen in the valleys and canyons to the north of the mountain.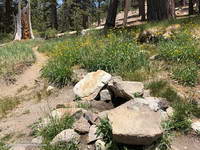 To get in a bit more mileage and elevation gain the next part of my run was supposed to be an out and back to the sun-baked environs of Lily Meadows (6600′). That wasn't going to happen if the spring was dry.
When I stopped at the wildflower-accented spring I could see that there was the barest thread of water trickling from the pipe. It didn't look like much, but it filled my 18 oz. cut-off water bottle in about three minutes. I gulped down most of the first bottle and it took a couple more to fill my Camelbak. In about 10 minutes I was headed downhill.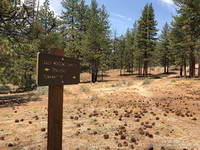 The North Fork Trail is far less used than the Tumamait Trail. That's part of the fun. Thunderstorms had not only wiped away any previous tracks, but had severely eroded some sections of the trail as well.
With the loss of elevation came an increase in temperature. By the time I reached Lily Meadows Camp the temp was in the 90s. This time of year there were no lilies or meadows at the campsite, but there was a nice grove of Jeffrey pines and a new camp table!
I didn't spend much time down there. There was a hill to climb and the cool temps along the crest were only about an hour away.
Some related posts: Pinos to Abel Plus, Thunderstorm, Vincent Tumamait Trail