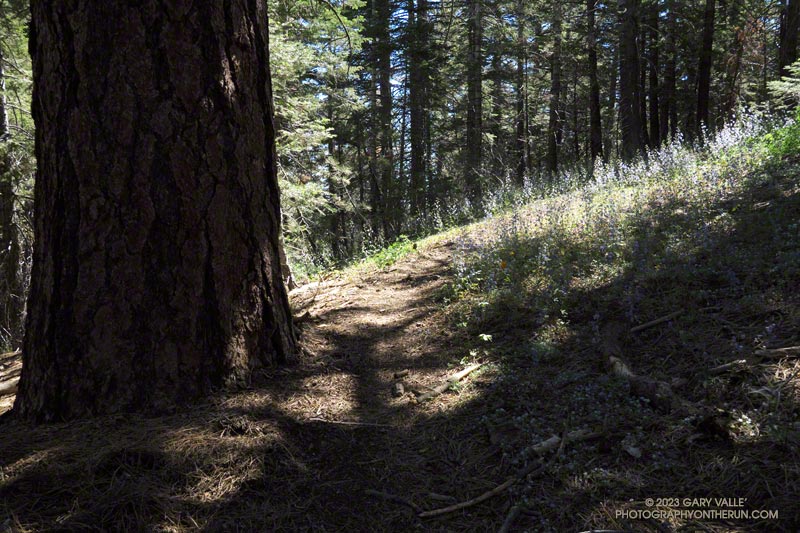 A long stretch of Angeles Crest Highway (Highway 2) between Red Box and Vincent Gap remains closed because of storm damage. According to a tweet from Caltrans District 7, it sounds like it may be closed through Summer. Some affected trailheads include Shortcut Saddle, Three Points, Mt. Waterman, Buckhorn, Mt. Williamson, and Islip Saddle.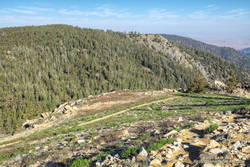 Mt. Pinos is often overlooked as a trail running destination but offers several options for those that enjoy running or hiking in hilly terrain at higher altitude. Most of the runs at Mt. Pinos start at the Chula Vista Trailhead (8350′) at the end of Mt. Pinos Road.
Today, I was doing an out-and-back from the Chula Vista Trailhead to Mt. Abel/Cerro Noroeste (8280+'). The route includes short side trips to Mt. Pinos (8831′), Sawmill Mountain (8818′), Grouse Mountain (8582′), and Sheep Camp (8300′).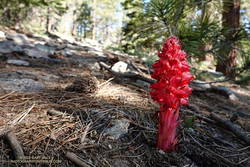 Including the side trips, the run/hike is about 15.5 miles long, with about 3700′ of gain/loss. Google Earth calculates the average elevation of the route to be 8434′. In comparison, the average elevation of the out and back from Islip Saddle to Mt. Baden-Powell is 8201′.
With triple-digit highs expected in some low-elevation areas, the temps on Mt. Pinos today were ever so pleasant — short-sleeves from the start and only a little toasty in a few exposed areas.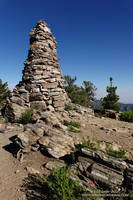 Despite the harsh Winter, there were only one or two small trees down on the Vincent Tumamait Trail, and those were inconsequential. As elsewhere in Southern California, the wildflowers along the trail were sensational. After nearly drying up last year, the spring at Sheep Camp was running at full flow.
Explore the terrain of this out and back run from Mt. Pinos to Mt. Abel using our interactive, 3D trail run visualizer. It's like being there! The map can be zoomed, tilted, rotated, and panned. To change the view, use the control on the upper right side of the screen. Track and placename locations are approximate and subject to errors.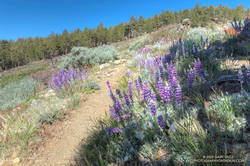 If you are looking to run longer, add additional elevation gain, or explore the area, running to Lily Meadows and back from Sheep Camp extends the run to about 21 miles, with around 5400′ of elevation gain/loss.
Another option for a longer run is doing an out-and-back to Mesa Spring Camp, instead of Mt. Abel. Including a stop at Sheep Camp on the way back, this run is about 20.5 miles, with about 4800′ of gain/loss.
Lily Meadows and Mesa Springs see far less traffic than the Vincent Tumamait Trail. The trade-off is that both places are at lower elevation and can be 15-20 degrees warmer than Mt. Pinos.
Some related posts:
Thirsty Mt. Pinos
Mt. Pinos to Mt. Abel Out & Back – Plus Sawmill Mountain, Grouse Mountain and Sheep Camp
Up, Down and Around on Mt. Pinos' Tumamait and North Fork Trails
Mt. Pinos Adventure Run to Mesa Spring