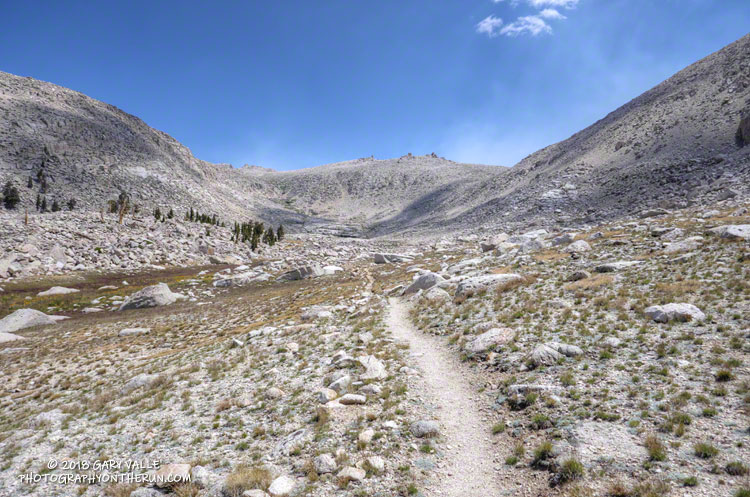 The smoke in the Owens Valley was as thick as PCH fog, and I wondered if it would extend into the higher elevations of the Sierra.
From Whitney Portal Road I couldn't see any of the ridges on Lone Pine Peak and the visibility at the bottom of Horseshoe Meadow Road wasn't much better. Gradually, as I drove up one long switchback and then another, the smoke thinned. At Horseshoe Meadow the sky in the direction of the crest was a decent Sierra blue, but smoke still spoiled the views down the canyons and over the valley.
As usual, I parked at the equestrian and overflow parking area for the New Army Pass Trail. From here, the start of the Cottonwood Pass Trail is a 5 minute walk SSW through the trees and downhill. I prefer to do the loop clockwise, going over Cottonwood Pass first, and then New Army Pass later in the run. Late season, I've also done the loop using (old) Army Pass, but that is more of a mountaineer's route and is often blocked by snow and ice.
New Army Pass is fairly high — 12,300′ — and the east side is quite steep near the top. Depending on the year, snow and ice can be an issue, even in mid-summer. When doing the loop clockwise, confirm in advance that New Army Pass will be passable with your level of experience and the equipment you'll be carrying.
For more details see the related posts below.
Here are a few photos from the run.
Some related posts: Cottonwood Pass – New Army Pass Loop 2013, Cottonwood – Army Pass Loop, Cottonwood Pass – New Army Pass Loop 2011