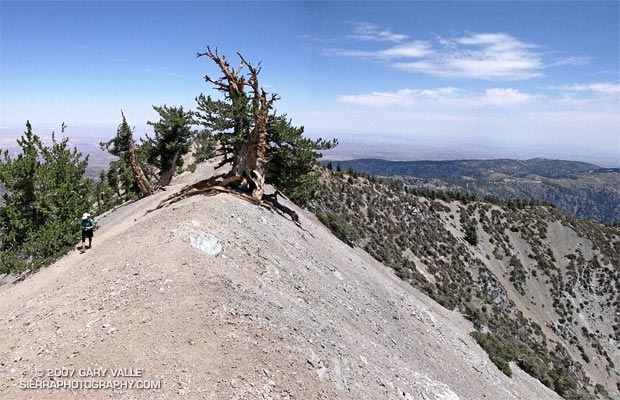 A grizzled guardian of the San Gabriel Mountains, the Wally Waldron Tree stands defiantly astride an airy, rock strewn ridge, just below the summit of 9399 ft. Mt. Baden-Powell.
Perched on the brink of the mountain's precipitous southeast face, the weather-sculpted Limber Pine is at an elevation and in an environment similar to the 4000+ yr. old White Mountain Bristlecone Pines. Burnished and hardened, the tree's huge, gnarled roots anchor it firmly to the mountain, helping it to resist the whims of weather and time. The tree is estimated to be 1500 years old.
We had stopped to visit the tree part way through an approximately 23.5 mile loop from Islip Saddle. Our route had descended to South Fork Campground (4560′), before climbing back up to Vincent Gap and Mt. Baden-Powell. In a few minutes we would continue to Baden-Powell's summit, and from there follow the PCT along the crest back to Islip Saddle. Here's a Google Earth image and Google Earth KMZ file of a GPS trace of the loop.
Water Notes: The little stream on the Manzanita Trail about 1.5 miles from Vincent Gap was still running. The flow from Little Jimmy Spring was lower than normal, but still very reasonable. We did not detour to Lamil Spring.
Related posts: Vincent Gap – Little Jimmy Spring Out & Back, Complications, Heat Wave