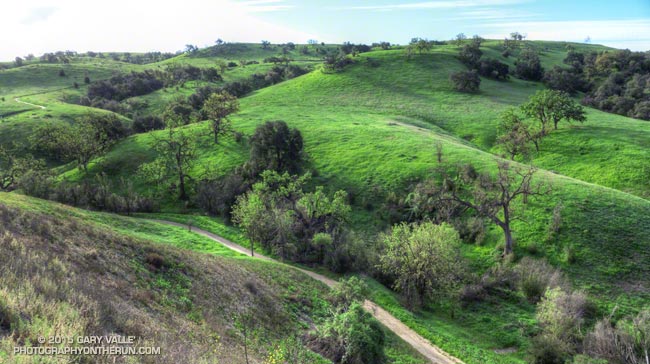 Race director Nancy Shura-Dervin picked a great year, and as it looks now, a great weekend for the inaugural running of the Ahmanson 12K Trails event.
The hills are lush and green; wildflowers are in bloom; valley oaks are sprouting fresh green leaves; and it's looking like race day may be one of those "gotta run" kind of days.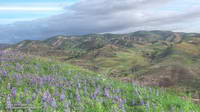 According to today's NWS forecast the area will see dry and warmer weather beginning Tuesday and continuing through race day. While there could be a remnant puddle here or there, four days will be plenty of time for the dirt roads to (mostly) dry out. The Cheeseboro RAWS automated weather station can be used to get an idea of the current weather in the vicinity of the race course.
Over the past 10 years I've logged approximately 6000 miles at Ahmanson Ranch (now Upper Las Virgenes Canyon Open Space Preserve) and the loop Nancy has selected for the course is a variation of a favorite.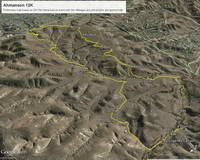 Here's a Google Earth overview of the 12K course and a preliminary elevation-corrected profile generated in SportTracks. The course is about 7.4 miles long with an elevation gain of about 740 feet. (Note: The loop is run in the clockwise direction.)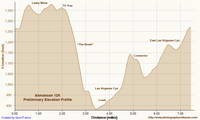 Lasky Mesa has long been used to shoot movies, television, commercials, music videos, and even Internet games. Its wildland character and expansive views bely its urban location. For a few weeks one summer the Mission Impossible III bridge was a Lasky Mesa landmark. The aesthetically-shaped valley oak at the west end of Lasky Mesa is a favorite of production companies and I've spotted it in more than one commercial.
The Ahmanson 12K should be an outstanding event on an excellent course in conditions we haven't seen at Ahmanson in several years.
For more information and photos see the Trail Run Events web site and the Upper Las Virgenes Canyon Open Space Preserve web site.
Some related posts: 10th Anniversary of the Acquisition of Ahmanson Ranch, Coyote Tag, It Was So Muddy That…, Ahmanson Ranch Trail Runs