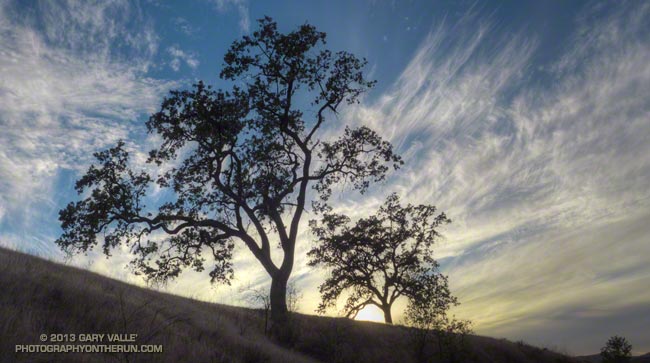 Today those instrumental in the acquisition of Ahmanson Ranch and supporters of the open space area gathered at the park — now Upper Las Virgenes Canyon Open Space Preserve — to celebrate its purchase. For more on the festivities see this article in the Simi Valley Acorn.
I've been running at Ahmanson Ranch for more than ten years and have spent hundreds of hours in the open space area. Following are a few photographs, stories and wildlife encounters from these runs.
 – Northern Harrier Turning to Strike
 – Red-winged Blackbird Song Spread
 – Racing the Sun, Catching the Moon
 – Coyote Tag and Coyote Tag II
 – Southern Pacific Rattlesnake and Big Southern Pacific Rattlesnake
 – September & October are Tarantula Months!
 – Southern California Greenscape
 – Lenticular Wave Clouds

– Signs of Winter
 – King of the Hill

– Comet PanSTARRS and the Crescent Moon

The title photograph is from a run at Ahmanson Ranch earlier this November.