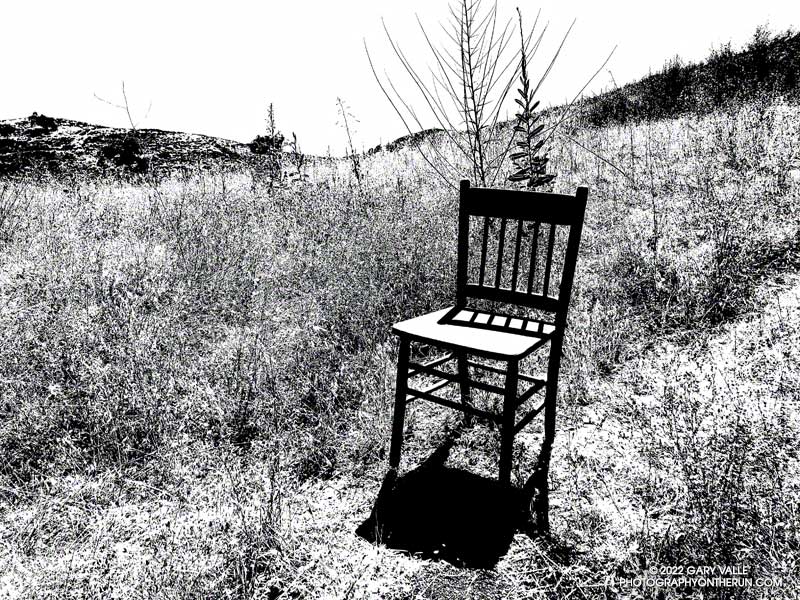 It was a little past 3:00 in the afternoon when I passed this straight-backed wooden chair along an Ahmanson Ranch trail. The Tempe thermometer clipped to my pack read over 100 degrees.
It gets REALLY hot at Ahmanson Ranch (Upper Las Virgenes Canyon Open Space Preserve). In the direct sun the temperature can be 10°F-15°F hotter than in the shade, and there is very little shade at Ahmanson. In-the-sun temperatures of 100°F or more are common in the Summer but can occur just about any time of the year.
There are two weather stations I use to get an idea of the weather conditions at Ahmanson Ranch — the Cheeseboro RAWS and Valley Circle Estates Weather Underground station. Weather station thermometers are usually shielded from the direct sun by a white, ventilated enclosure. The Cheeseboro RAWS includes a measurement of the "Fuel Temperature." This is generally a better indication of the temperature experienced by a runner, hiker, or rider in the direct sun.
Update on July 29, 2023. Rounding the temperature to whole degrees, my West Hills weather station recorded a high of 100°F, or higher, for 15 consecutive days this July (7/13/23 to 7/27/23). The station is about three miles from the Victory Trailhead at Ahmanson Ranch.
Some related posts: Some Summers Are Hotter than Others, Run to the Cheeseboro Remote Automated Weather Station