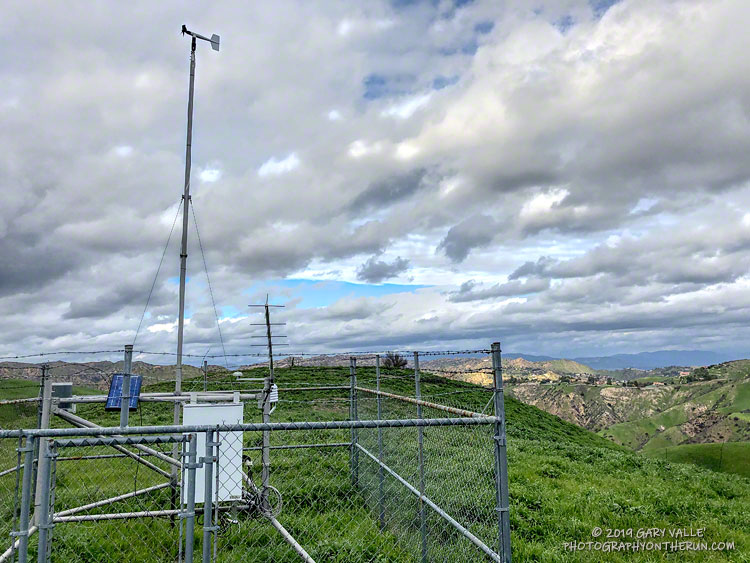 This afternoon's run was to the Cheeseboro Remote Automated Weather Station (RAWS). The station is perched on the ridge between Las Virgenes Canyon and Cheeseboro Canyon, along the Cheeseboro Ridge power line service road.
It is about 5 miles from the Victory Trailhead of Upper Las Virgenes Canyon Open Space Preserve (formerly Ahmanson Ranch) and one of many good runs from that trailhead into the Cheeseboro – Palo Comado Canyon area.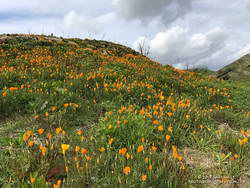 Runs in the Ahmanson Ranch area are especially scenic at the moment. Above average rainfall has produced lush green growth in the oak grasslands following the Woolsey Fire. Many of the oaks are beginning to sprout new leaves and poppies and other wildflowers are beginning to bloom. Today there was a nice show of poppies in Las Virgenes Canyon at the connector leading to Cheeseboro Ridge and Cheeseboro Canyon.
Operated by the BLM and NPS the Cheeseboro RAWS (CEEC1) has been in service since September 1995. The station was in the area burned by the 2005 Topanga and 2018 Woolsey Fires and was active throughout each event.
Following are some of the extremes recorded by the station:
• Highest hourly temperature was 115 °F on July 7, 2018.
• Lowest hourly temperature was 32 °F on December 12, 1998.
• Maximum hourly wind speed was 37 mph on October 22, 2007.
• Maximum wind gust was 92 mph on January 6, 2003.
• Maximum daily precipitation was 5.01 inches on February 12, 2003.
So far this rain year (July 1 to June 30), 15.67 inches of rain has been recorded by the station.
Related post: Southern California Trail Running Temps