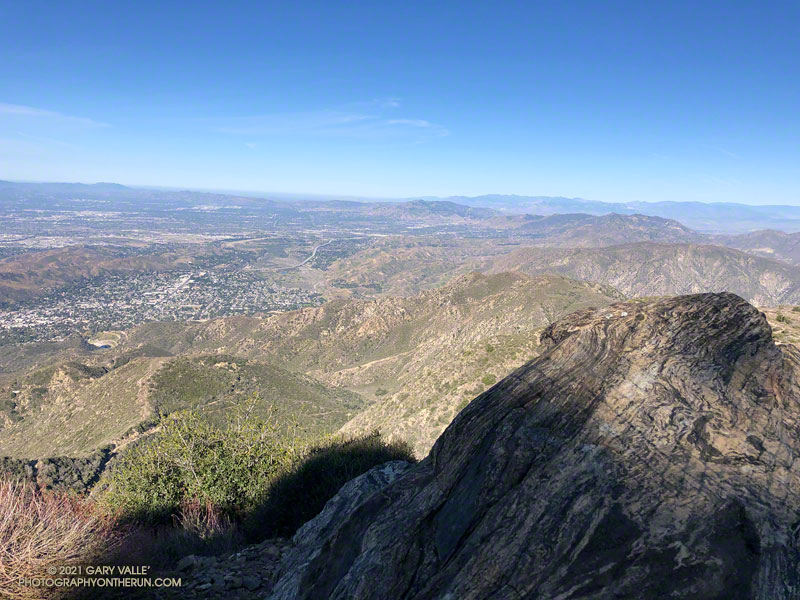 It was a chilly 45 degrees in the canyon, and I had already resigned myself to having to wade across Big Tujunga Creek. But I didn't even get my shoes wet. The water level was low enough that the large rocks placed across the creek were high and dry.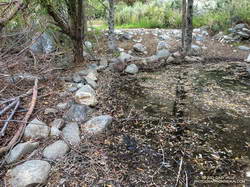 It was a good start to what was to be an excellent run and hike. As I gained elevation, it was evident there had been recent work on the trail. Trimmings from the brush along the trail were still green, and in several spots the tread had been freshly manicured. The higher I climbed, the more work had been done. In a couple of places, substantial washouts had been repaired.
Last year, the trailwork ended abruptly about halfway up the trail. Not so this year. An impressive amount of work had been done to clear the trail of a tortuous mix of dead scrub oaks and thorny brush. Without having to crawl over, around, and through those snarls, my roundtrip time to the summit and back was a full hour faster than last year. Many thanks to whoever worked on the trail!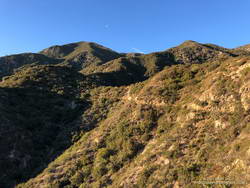 Although rainfall has been below normal this rain season, there were still some wildflowers blooming along the trail. Among them were bush poppy, chaparral currant, and hoary-leaved Ceanothus.
Here's an interactive, 3D terrain view that shows a GPS track of the route up and down the Stone Canyon Trail on Mt. Lukens. The view can be zoomed, tilted, rotated, and panned. Placemark and track locations are approximate and subject to errors.
Some related posts: Back to the Stone Canyon Trail, Mt. Lukens, Then and Now