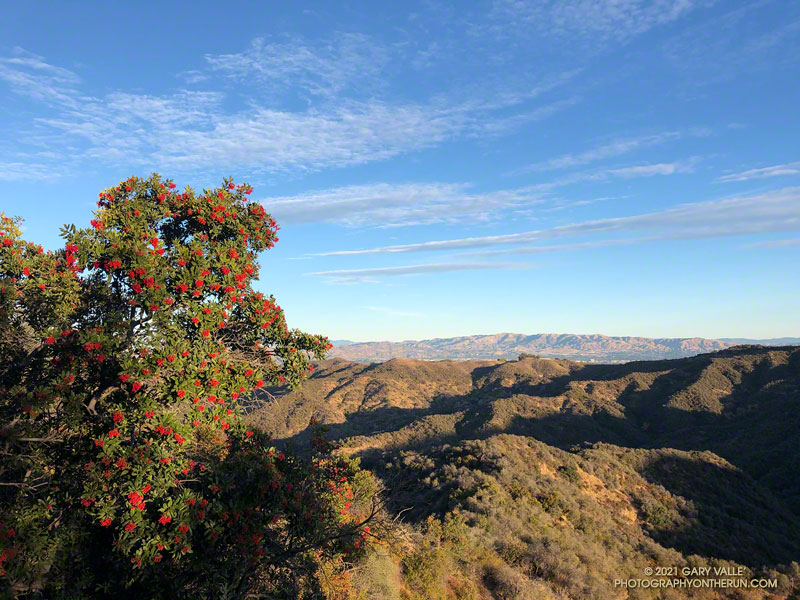 First published October 14, 2007. Updated February 4, 2021.
The numerous interconnecting roads and trails of the eastern Santa Monica Mountains can be combined to create trail runs ranging from a few miles to marathon length or more.
One of my favorite trails in this area is the Garapito Trail — a winding, up and down trail through dense, old growth chaparral. The trail connects Fire Road #30, near dirt Mulholland, to the Eagle Rock Fire road segment of the Backbone Trail, near Eagle Rock. Because it's such a enjoyable trail, I include it in most of the runs I do from Marvin Braude Mulholland Gateway Park (Top of Reseda). The trailhead is at the southern end of Reseda Blvd., on the San Fernando Valley side of the Santa Monica Mountains.
Each run in the series starts the same way, going up to Mulholland using the single track trail that forks right off the fire road near the Reseda trailhead, and then heading southwest a short distance on Mulholland to Fire Road 30, which works south, up to the Hub.
The shortest run in the Garapito series is the 7.5 mile Garapito Loop. Somewhat longer and more strenuous is the 12+ mile Trippet Ranch Loop. A very demanding run in the series is an approximately 26 mile route out to Saddle Peak and back. The popular run out to Parker Mesa Overlook and back tacks on about 6 miles to any of these routes.
Below are links to 3D, interactive views of GPS tracks of some of the Garapito Series trail runs from the Top of Reseda. The scene can be zoomed, tilted, rotated and panned. Placemark and track locations are approximate and subject to errors.
Garapito Loop Plus Eagle Rock (8 miles)
Trippet Ranch Loop (12.3 miles)
Trippet Ranch Loop Plus Temescal Peak (14 miles)
Trippet Ranch Loop Plus Parker Mesa Overlook (18.6 miles)
Trailer Canyon – Trippet Ranch Loop (17.2 miles)
These are just a few of the many variations that are possible.
Some related posts: Trippet Ranch Loop Plus Temescal Peak; Trail Run to Trippet Ranch, Hondo Canyon and Saddle Peak; Go Figure