On recent weekends I've enjoyed running some of the less-used trails in Angeles National Forest. With trails reopening in the Santa Monica Mountains, this weekend I decided to do an old favorite — the out and back run from the Top of Reseda to Trippet Ranch.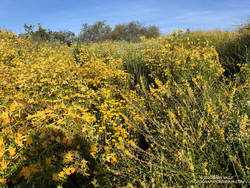 Even with an early start, more cars than usual were parked at Marvin Braude Mulholland Gateway Park. After hiking up the hill to the trailhead, I took the single-track connector to dirt Mulholland, and then ran a quarter-mile west and turned left (south) onto Fire Road #30.
The fire road starts with a warm-up downhill and then over about 1.5 miles ascends to the Hub, ending the stretch with a strenuous hill. The distance from the trailhead to the Hub by this route is about 2.5 miles. (On May 17, the pit toilet at the Hub was closed.)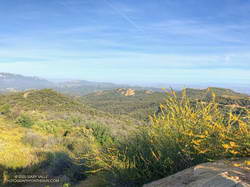 At the Hub, I took a quick detour over to Temescal Peak, the little peak with a big view. The path to its summit is on the south side of the peak. It takes off from the Rogers Road segment of the Backbone Trail, just east of Temescal Ridge Fire Road. Usually a well-defined path, today it was totally overgrown with monkeyflower and deerweed. The morning was a bit hazy, but there were still good views toward Eagle Rock, the Hub, and other areas of the Santa Monica Mountains.
The side trip to Temescal Peak added about 1.6 miles to the run. After returning to the Hub, I turned left onto Eagle Springs Fire Road and continued (mostly downhill) to Trippet Ranch.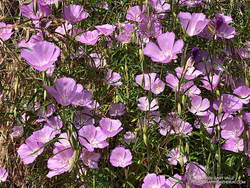 The return from Trippet Ranch was mainly on single-track trails. There were maybe a dozen hikers on the Musch Trail and a couple of hikers on each of the Garapito and Bent Arrow Trails. I had my InknBurn mask handy for when I passed others on the trail. As might be expected, the trails were a little overgrown. (On May 17, water was available from the spigot at Musch Camp.)
Right from the start of the run, it was evident that several species of wildflowers were blooming in a big way. Some of the most prolific were monkeyflower, yarrow, deerweed, and canyon sunflower. There were several large patches of farewell-to-spring along the Garapito Trail. Plus, there was a trickle of water in Garapito Creek.
Here's a 3D interactive view of my GPS track from the "Top of Reseda" to Temescal Peak, Trippet Ranch, and back. The view can be zoomed, tilted, rotated, and panned. Placemark and track locations are approximate and subject to errors.
Some related posts: Garapito Trail Runs, The Heavenly Ranch in the Hills, Trippet Ranch Wildflower Run