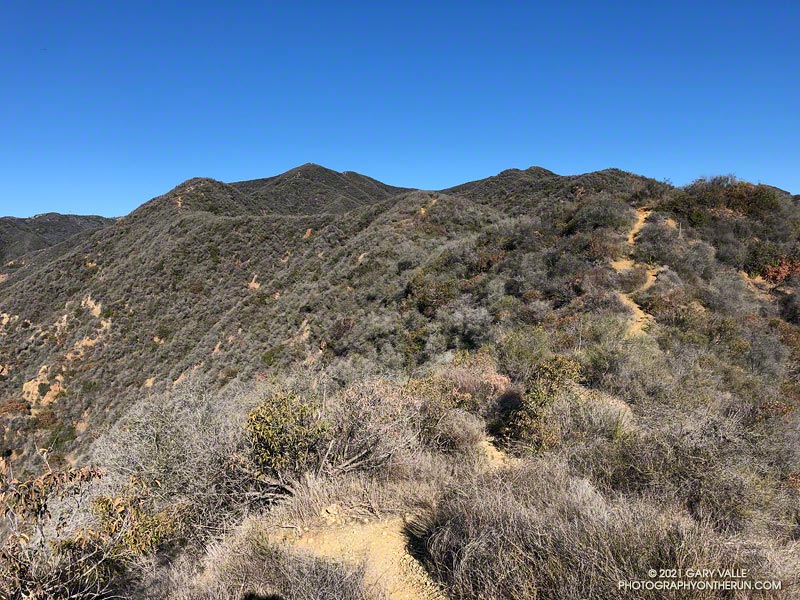 Like many that enjoy our local mountains, I'm always on the lookout for new trails, new peaks, and interesting loops. A couple of months ago, after running to "The Oak Tree" on the Rogers Road segment of the Backbone Trail, I checked out the upper part of the High Point Trail.
This 2-mile long unofficial, unmaintained, use trail connects the Backbone Trail to the Rivas Canyon Trail. My thought was that I could use the trail to do a variation of the Will Rogers – Temescal Canyon Loop. Instead of running down the lower half of Rogers Road Trail to Will Rogers SHP, I could descend the High Point Trail, pick up the Rivas Canyon Trail, and then finish the loop by the usual route. On paper it made perfect sense.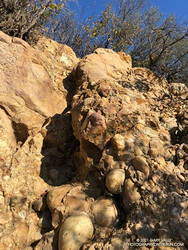 As sometimes happens, it wasn't quite as straightforward as it looked on the map. Blame the dinosaurs. The trail has several steep sections where eroding Cretaceous-age cobble does its best to take you for a ride. Plus, I happened to be using shoes worn smooth by nearly 500 miles of running.
More than one hiker going up the trail commented about my choice to descend the trail. Being careful not to do anything stoopid, the descent — and the rest of the loop — worked out OK.
Since doing the High Point Trail in the wrong direction and with worn-out shoes, I've wanted to go back and do a different loop that climbs UP the trail. That's what I was doing this morning.
The first half of the run was the same as the Will Rogers – Temescal Canyon Loop. However, instead of continuing to Temescal Canyon on the Rivas Canyon Trail, I picked up the High Point Trail at the "cactus garden." This is about 11.5 miles into the run. (The start of the High Point Trail has closely-spaced steps that have been eroded by runoff.)
As you might expect, going up the High Point Trail was much better than going down. Care was still required, but it was a far more enjoyable experience. Between the steep sections there was a surprising amount of runnable trail.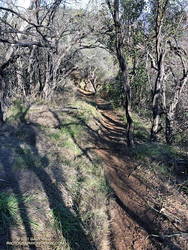 This time my shoe choice was the HOKA Speedgoat. These have a full-length, sticky-rubber outsole. I've had many pairs, and it's my trail running shoe of choice for more difficult terrain.
From the top of Reseda, the Goat Peak High Point Trail keyhole loop worked out to about 20 miles, with about 3300′ of elevation gain. Here's an interactive, 3D terrain view of a GPS track of the route, zoomed in on the keyhole part of the loop. The map can be zoomed, tilted, rotated, and panned. To change the view, use the control on the upper right side of the screen. Track and placename locations are approximate and subject to errors. Poor weather, and other conditions may make this route unsuitable for this activity.