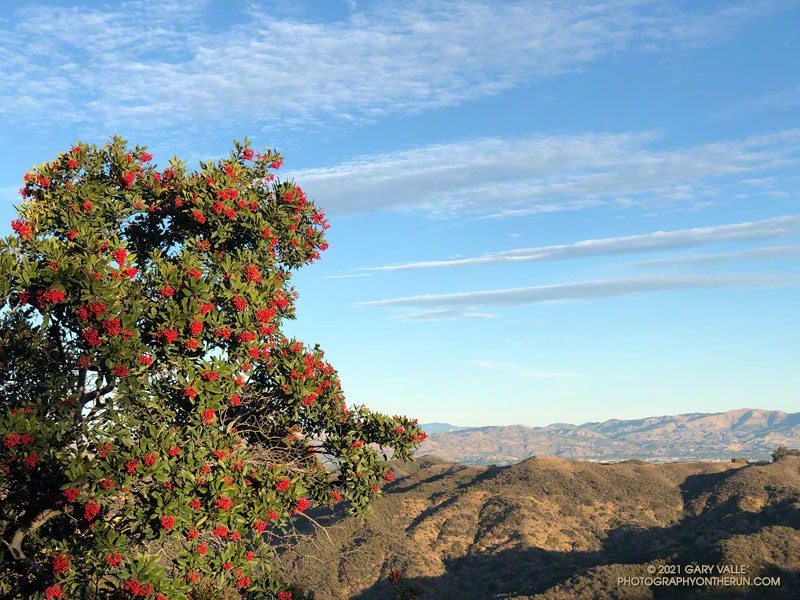 A week after doing the out and back run to the Ray Miller Trailhead, I was back in the Santa Monica Mountains and doing another popular trail run — the Trippet Ranch loop. Near the top of the Garapito Trail it dawned on me I'd seen no berries on the toyon shrubs and trees along the way. These red-orange berries usually add a bit of Holiday color to the chaparral, and at one time were so sought after that a law was passed to protect them.
Toyon usually blooms in the Summer, producing green berries that slowly turn red-orange by the holidays. The title photo — of a toyon heavily loaded with berries — is from last Winter.
For the remainder of the run I checked most of the toyon along the trails back to the Top of Reseda. Not a single toyon had any berries.
How widespread was this? The following two weekends, I did runs in other areas of the Santa Monica Mountains. One was an extended version of the Bulldog Loop, and the other an out and back run from the Top of Reseda to the Oak Tree on Rogers Road segment of the Backbone Trail.
On those three runs I must have passed hundreds (thousands?) of toyon along the trail. Out of all of those I checked, only one had berries. It was near the water tank on Mesa Peak Mtwy fire road, at the top of the climb up from Tapia.
As you might expect, the most likely explanation for the lack of berries is the drought. Precipitation records for Downtown Los Angeles (USC) show that in 2019-2020, the rain season lasted about 5 months — from about mid November to mid April. Leading up to the flowering period for toyon the accumulated rainfall was a little above normal. The result was what you see in the title photo.
On the other hand, in 2020-2021, the rain season effectively began at the end of 2020 and ended in mid March. Less than half of normal rainfall was recorded going into the flowering period of toyon.
The toyon on Mesa Peak fire road that managed to produce some berries is situated near the crest of east-west oriented ridge. It probably benefits from enhanced precipitation because of its location.
Some related posts: Christmas Berry on the Garapito Loop, Best Trailhead to Start the Bulldog Loop, Will Rogers – Rivas Canyon – Temescal Canyon Trail Run