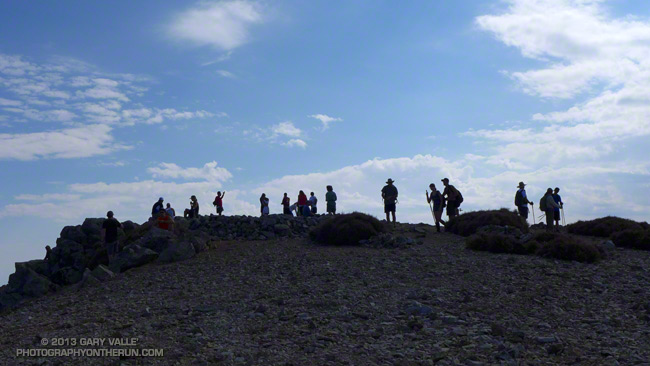 As might be expected on a holiday weekend, it was busy on Mt. Baldy. Hikers and runners were doing the peak by all the regular routes — the Ski Hut/Baldy Bowl, Devil's Backbone, Bear Canyon/South Ridge and North Backbone trails.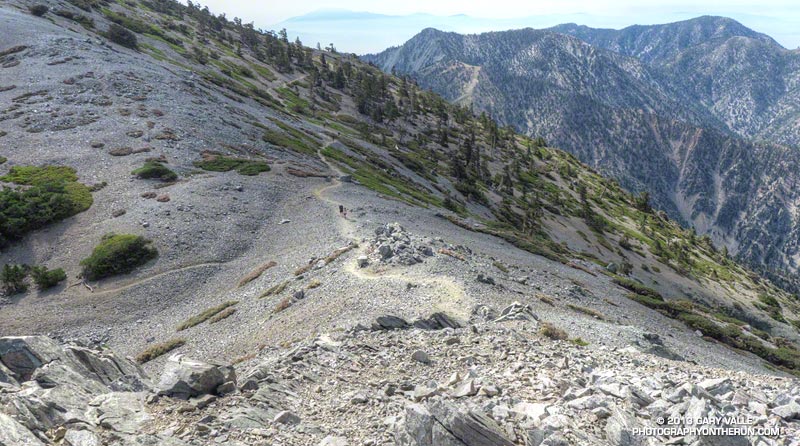 I did a variation of the Ski Hut loop. This loop starts at Manker Flat (about 6160′) and ascends Mt. Baldy (10,064′) via the Ski Hut/Baldy Bowl Trail and then descends the peak using the Devil's Backbone Trail and ski area service road. Along the way I also ran over to West Baldy (9988′) and Thunder Mountain (8587′). This variation is about 14.5 miles with 5000′ gain/loss vs 10.5 miles and 3900′ gain/loss for the basic loop. If you throw in Telegraph Peak, it adds another 3.5 miles and 1000′ of gain/loss.
The weather was spectacular with just enough clouds to make the sky interesting. Temps were comfortably cool on top, and although warmer down at the Notch, OK for running over to Thunder.
Some related posts: Back to Baldy, Mt. Baldy Run Over the Top, South Ridge Relic, Up & Down Mt. Baldy's South Ridge