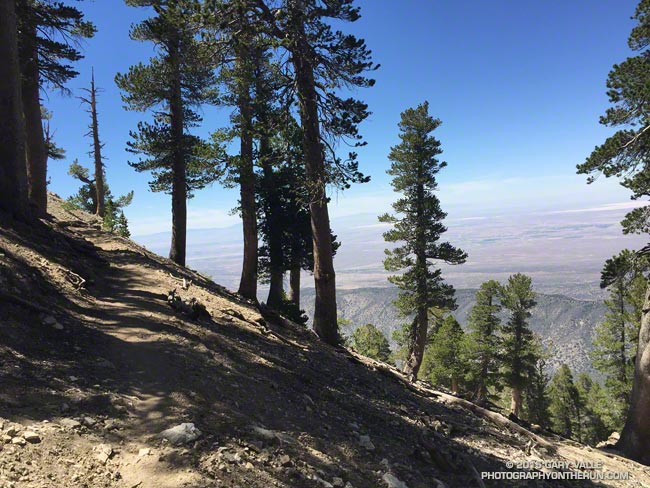 First published on June 30, 2015.
The Angeles Crest 100 Mile Run has always been considered a challenging 100 miler. This year it's going to be even more challenging. Because of trail closures related to the Bobcat Fire and subsequent heavy runoff, this year's course will be from Wrightwood, out to Shortcut Saddle, and back.
One of the main reasons it will be more difficult is that the course will, on average, be at higher altitude. According to Google Earth, the average elevation of previous AC100 courses has been around 5100′-5300′. This year's course averages nearly 6900′.
Another big difference is that in the last 25 miles there will be two tough climbs on the highest sections of the course — the climb from Islip Saddle to Baden-Powell, and the climb from Vincent Gap to Blue Ridge.
And, as if that wasn't enough, most calculate that the cumulative elevation gain is greater on the 2022 course than previous courses. The estimated elevation gain on the AC100 website for this year's course is 23,228′.
Because of the increased difficulty, cutoff times have been adjusted and the overall time to complete the course has been increased to 36 hours — from 5:00 a.m Saturday morning to 5 p.m. Sunday afternoon.
The elevation profile of the 2022 AC100 course (PDF) was created in SportTracks from the GPX file on the AC100 website. The profile uses elevations corrected with pkan's Elevation Correction Plugin and 3DEP 1-meter Lidar-based DEMs and a conservative elevation data smoothing setting.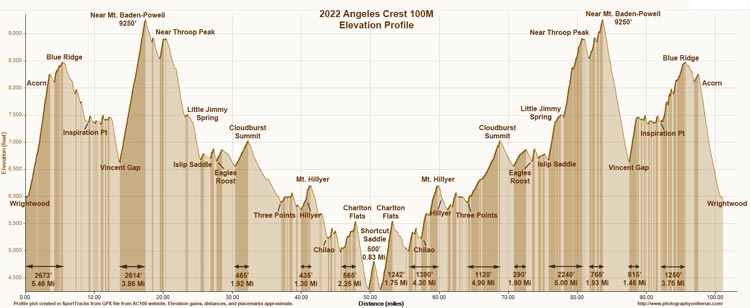 Placemark locations, mileages, and elevation gains and losses are approximate. See the AC100 website for much more information and details. For comparison, here is an elevation profile from the 2017 AC100. Note that the 2017 profile was created using a GPS track from a runner and calibrated using lower resolution (1/3 arc-second) DEMs.
The race starts on August 6, 2022 at 5:00 a.m. in Wrightwood, California. There is a button/link for Runner Live Tracking on the AC100 Home Page. If you are participating, have a great race!