I had just waded down a 50 yard stretch of creek where the Santa Ynez Canyon Trail used to be. Three hikers working up the canyon were trying to find a way past the flooded section without getting their boots wet. That wasn't going to be easy.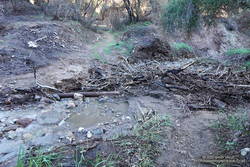 I had been doing the same thing higher in the canyon. It was a chilly morning, and I had no great desire to soak my shoes in cold water. The usual rock and limb crossings had worked well until the trail ended in a broad area of flowing creek. Once my shoes were wet, it simplified the process.
That the trail was flooded following several days of rain wasn't that surprising. What was a surprise is that there hadn't been higher flows and more damaging flash floods in the canyon.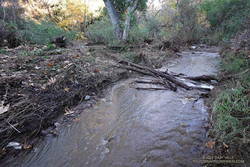 Santa Ynez Canyon was the focus of the Palisades Fire, and a large part of the drainage was burned to a moonscape. Burned slopes often amplify runoff from heavy rain, producing damaging flash floods and debris flows. While there was clearly high flows in the canyon, the levels were less than what I've seen in similar circumstances, in other burn areas. One possibility is that unburned trees and brush along the streambed higher in the canyon had attenuated the flow.
After doing the out and back on the Santa Ynez Canyon Trail, I continued down to Trippet Ranch and then, like last week, returned using the Musch, Garapito, and Bent Arrow Trails.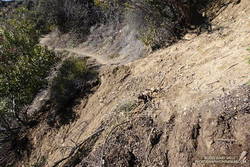 There were a number small rock slides, sluffs, and sediment flows along the trails and roads. A couple of people were working on clearing the limbs and small trees that had fallen across the Garapito Trail. The collapsed oak at the bottom of the Garapito Trail had settled, and was easier to get through this time.
The trail that really took it on the chin was the Bent Arrow Trail. Several sections of the trail were damaged by slides.
I usually do the Santa Ynez Canyon Trail as part of the Trailer Canyon – Santa Ynez – Trippet Ranch Loop. Tacking on the trail as an out and back addition to the loop was slightly shorter, but had a little more elevation gain/loss.
Some related posts: Trippet Ranch Loop After the Palisades Fire, Clouds, Canyons and Wildflowers, Running Between Storms on the Trippet Ranch Loop, Go Figure