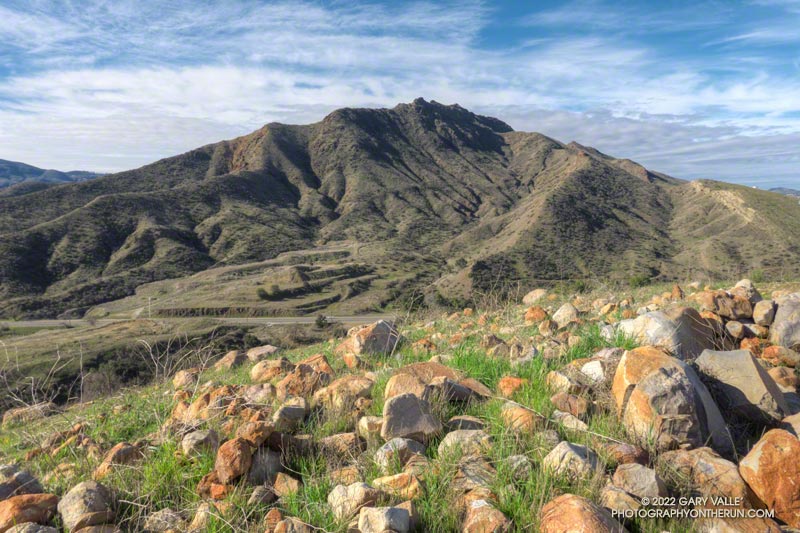 The run up the Phantom Trail from Mulholland Highway and out Heartbreak Ridge is a fun adventure all on its own. When you first see Ladyface from the Phantom Trail, it seems like the trail isn't going to go anywhere near the peak. But a series of ups, downs, and arounds does eventually get you to an overlook above the junction of Kanan & Cornell Roads. If you were to turn around at this point, the out and back would total a little over 8 miles.
Continuing down to Kanan Road and doing a counterclockwise loop on Ladyface — ascending the East/Northeast Ridge and descending the East/Southeast Ridge — adds another 3.5 miles to the route, and ups the adventure quotient a notch.
I first climbed Ladyface by this route in 2010 and have done Ladyface many times since. It's a "real" peak with all the pros and cons that come with such a peak. The route isn't always obvious, and some scrambling using the hands is required. Some sections of trail are steep, gritty and slippery. The quality of the volcanic rock varies. The knobby rock is fun to climb, but can break unexpectedly.
Even with the Ventura Freeway buzzing below the peak, the views from Ladyface are spectacular. A panorama of the Santa Monica Mountains extends from Saddle Peak in the east to Boney Mountain in the west. On the opposite side of the mountain, Hines Peak, Simi Peak and the San Gabriel Mountains fill the scene. On a day with good visibility, San Jacinto Peak can be spotted, far to the east.
Here are a few photos taken along the way, and an interactive, 3D terrain view of the GPS track of my route. The map can be zoomed, tilted, rotated, and panned. To change the view, use the control on the upper right side of the screen. Track and placename locations are approximate and subject to errors. Poor weather, and other conditions may make this route unsuitable for this activity.
Some related posts: Ladyface the Long Way, Ladyface After the Woolsey Fire, Ladyface Loop