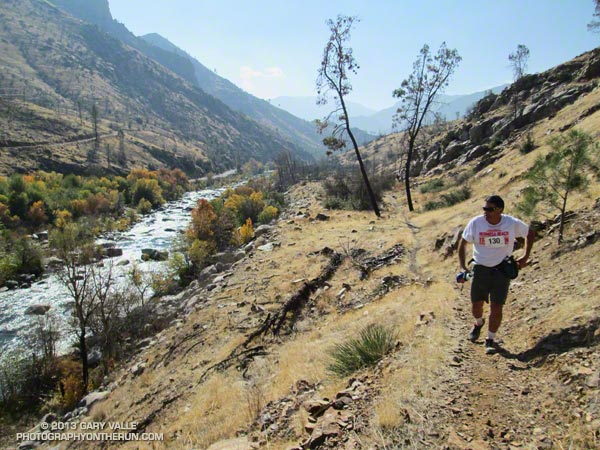 I heard it several seconds before I saw it, a sound like thunder rumbling in the distance, but rapidly growing in strength and intensity as it moved up the rugged river canyon.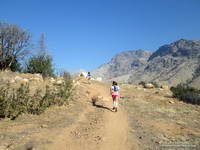 I had just completed the mile-long climb that follows the Ant Canyon creek crossing and started the descent from the high point of the Burger Run course. The roar stopped me in my tracks — I did not want to miss sighting one of the fighter aircraft that fly through this canyon.
The weather was as good for flying as for running, mostly clear blue skies with only a tatter of cloud over the mountains. I looked in the direction of the growing sound, but had looked too high. The twin-engine fighter was at eye-level and over the river about a half-mile away.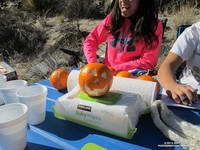 At Fairview — where the Burger Run ends — the Kern River canyon narrows, with 2500′-3000′ tall mountain ridges closing in on the left and right. It would take me at least 30 minutes to get to the finish, but spellbound I watched as the jet covered the distance in three or four seconds. Approaching the cul-de-sac, the pilot added power, pulled back on the stick and in a steep, climbing turn pulled up and over the rocky ridge on the right, continuing the corkscrewing turn into a roll. Sigh…
Last year a spectacular rainbow had spanned the canyon; this year we'd been treated to a dramatic low level flyby. Whether you come for rainbows, fighter jets, the challenging terrain, or the superb views of the mountains and river, a hike or run of the Whiskey Flat Trail is an outstanding adventure.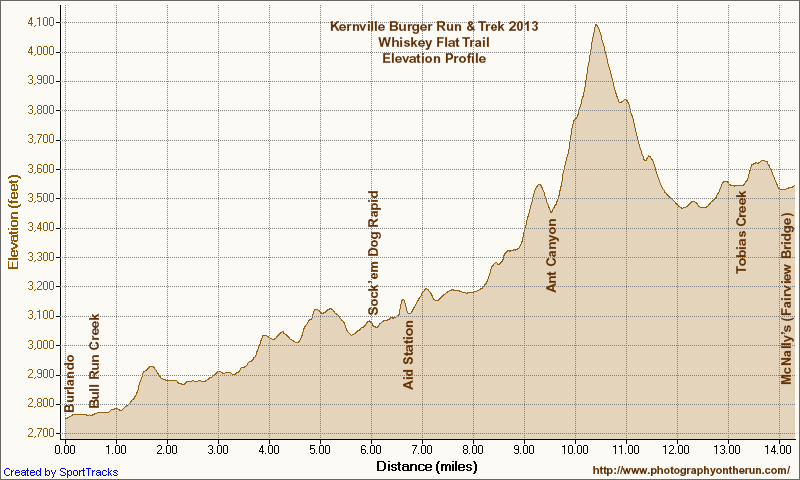 The Run-4-A-Way Burger Run & Trek starts at the Burlando Trailhead in Kernville and follows the single track Whiskey Flat Trail up Kern River's rugged canyon to Johnny McNally's Fairview Lodge and Restaurant. As the 14.5 mile trail works up river it crosses a series of tributary canyons and ridges, gaining more than 2100′ and losing at least 1300′. It challenges the runner, and most take longer than expected the first time they run (or hike) it. Those seeking even more adventure can do the Double Burger option — starting at Fairview, running to Burlando, and then returning to Fairview.
The annual run and trek is organized by Mike Lane of Run-4-A-Way, a local non-profit group dedicated to enhancing the fitness and well-being of the local youth. Proceeds from the 2013 event will help the Kern Valley High School "Lady Broncs" soccer team with equipment and other expenses. Many thanks to Mike for organizing the event and to the Lady Broncs who managed the Burger Run & Trek aid station.
Some related posts: Whiskey Flat Trail Burger & Double Burger Run 2012, Whiskey Flat Trail Burger Run 2011
Related video: F-16 Auto-GCAS Demonstration Flight from Owens Dry Lake, into the Sierra, and down the Kern River.
Following are a few additional photos from the run. Click for a larger image:
| | | |
| --- | --- | --- |
| Race Meeting | Steep Ascent | Steep Descent |
| Aid Station | Salmon Buttress & Falls | Fairview |