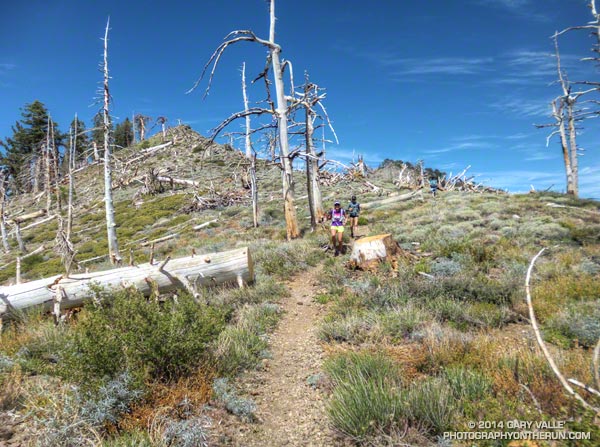 Between Vincent Gap and Islip Saddle the Pacific Crest Trail follows one of the most scenic stretches of trail in Southern California, skirting the summit of Mt. Baden-Powell (9399′) and passing Mt. Burnham, Throop Peak and Mt. Hawkins before leaving the crest at Windy Gap (7600′), just east of Mt. Islip. It has long been a favorite of hikers and runners.
There are several ways this classic stretch of trail can be incorporated into a run or hike. Today we were doing the segment as part of a training run for the 2014 Angeles Crest 100 Mile Endurance Run. The AC100 starts at Wrightwood, California; then using parts of the PCT, Silver Moccasin, Gabrielino and several other trails, the AC100 works west through the peaks and canyons of the San Gabriel Mountains to Loma Alta Park near JPL.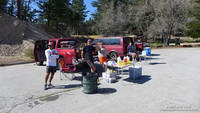 The AC100 training runs, organized and supported by AC100 co-director Hal Winton, cover the 100 mile course in approximately 25 mile segments. With the help of AC100 Racebook editor/photographer Larry Gassan and a host of generous volunteers, "Uncle Hal" makes it happen and always seem to be where runners need him to be. Today's training run was the fourth, and last, of the 2014 series.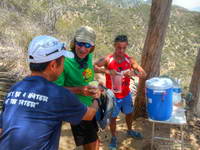 Just a few days before we'd done the third AC100 training run from Chantry Flats to the finish at Loma Alta Park. Beginning at Mile 75 of the AC100, this difficult segment includes the Wintercreek and Idlehour climbs and some of the most technical trails on the course. As a result of the drought water wasn't easily accessible at Idlehour Creek, so Hal and 2013 AC100 finishers Dave Tan and Rainer Schultz were at the "Cape of Good Hope" on Mt. Lowe fire road to provide much-needed water to thirsty runners.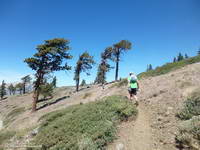 This morning's run from Wrightwood had begun with an ascent of the Acorn Trail — a climb that matches foot for foot the 2650′ elevation gain of the PCT up Baden-Powell and is every bit as strenuous. After climbing up the Acorn Trail we'd joined the PCT and followed it along spectacular Blue Ridge, past the top of Mountain High Ski Resort, to Angeles Crest Highway at Inspiration Point. From there it had taken less than an hour to reach Vincent Gap and Hal's aid station. A quick stop to refill my hydration pack and I was back on the PCT and chugging up Baden-Powell.
Far too many switchbacks later, far too much of the peak remained. I was maxed out and doing my best to keep up with Skye's brisk pace. Finally we rounded a corner and I could see the Wally Waldron tree a 150 yards ahead. Just 150′ in elevation from the top of Baden-Powell, the gnarled and weathered limber pine — estimated to be 1500 years old — stands sentinel at the juncture of Mt. Baden-Powell's summit trail and the PCT.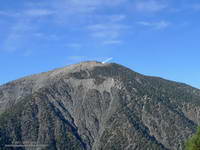 I'd pushed the pace up the Acorn and Baden-Powell climbs and now was paying the penalty. My legs were toast. When I'd reached the Wally Waldron tree the decision whether or not to go to the summit of baden-Powell had been very easy — one trail led steeply up and the other gently down. As we turned west onto the PCT I told Skye I was going to have to take it easy for a bit. She had already started to pick up the pace and it didn't take long for her to disappear into the forest on the trail ahead.
After a while I glanced at my watch and was surprised to see that it was already 3:00 pm. Because of the long shuttle to Wrightwood we hadn't started running until 9:20 am. After skirting Baden-Powell, I'd run past Mt. Burnham, struggled up to the shoulder of Throop Peak and now was near Mt. Hawkins. Here, the beginning of the descent to Windy Gap is marked by a prominent Jeffrey pine that has been struck by lightning.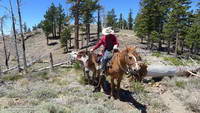 West of Mt. Hawkins the Pacific Crest Trail passes through a ghost forest of large trees burned in the 2002 Curve Fire. Recovery in the area is progressing well, and amid the dead trees are numerous pine and fir saplings. I ran this segment in mid-January and again at the end of May. Sometime between the two runs a large number of the dead trees had been blown down. During the May run it had been necessary to crawl over or work around a log jam of fallen trees. The trees likely blew down during a storm on February 28th, when Chilao recorded winds as high as 91 mph. That wasn't necessary today, thanks to the expert trail work of PCTA volunteer Ray Drasher and his equine crew.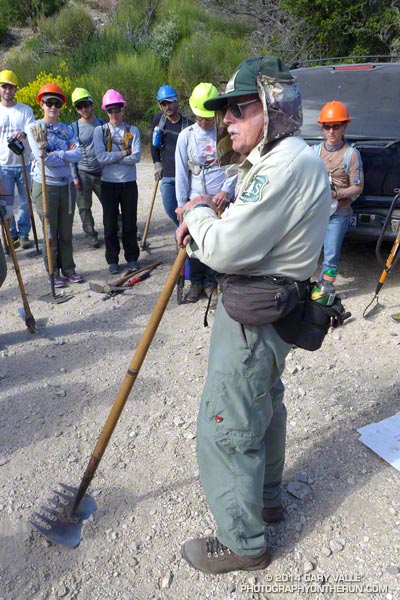 Most of the trail maintenance in the San Gabriels (and elsewhere) is now done by volunteers. One of the requirements to run in the AC100 is eight hours of trail work. This year AC100 entrants have worked on the Idlehour and Wintercreek Trails and will be working on the Gabrielino Trail below Newcomb Saddle in a couple of weeks. For more info about Hal and volunteering see the April 2014 issue of the VOLUNTEER TODAY newsletter (PDF).
Once through the ghost forest on Mt. Hawkins, it didn't take long to get down to Little Jimmy Spring and from there over to Islip Saddle. It had been another tough training week in a series of tough training weeks. As I descended the final short switchbacks to the Islip Saddle parking area on Highway 2 I tried to visualize what it would be like on race day. How would I feel compared to today? Would I make here before noon? How hot would it be on Cooper Canyon? Would the cutoff at Cloudburst be a problem? Would I make it to Horse Flats before dark? On what trail would I be when sun rose for the second time during the run? All these and many other questions would be answered in just a few weeks.