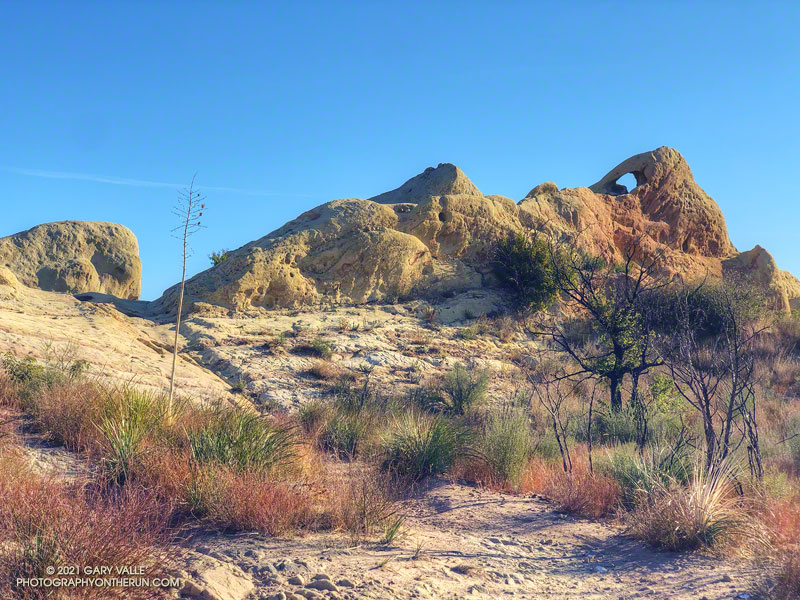 Instead of struggling to escape a tar pit, this "mammoth" seems to have been caught up in 25-30 million-year-old sandstone.
The beast can be seen along the Backbone Trail, east of the Corral Canyon Trailhead. When running/hiking/riding east from the trailhead, the trail climbs over two steep steps and up to gap in the rock. In the photo above, the gap is on the left and the mammoth figure is on the right. From the gap, the trail descends a rock corridor to Mesa Peak fire road.
A closer look at the mammoth reveals that it is pockmarked and there are rocks embedded in the sandstone. The embedded rocks are cobble from an ancient river and the pockmarks are where rounded rocks have fallen out of the eroding sandstone.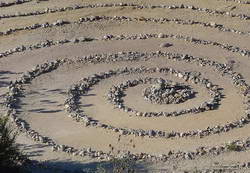 Stream cobble that has eroded out of sandstone formations in this area has been used to construct a spiral labyrinth on the north side of Mesa Peak Fire Road. The cobble was tumbled and smoothed by streams that drained a range much older than the Santa Monica Mountains.
The title photo is from this morning's run of the Bulldog Loop.
Some related posts: Moon and Sycamores, Malibu Creek State Park; Bulldog Loop Near Corral Canyon