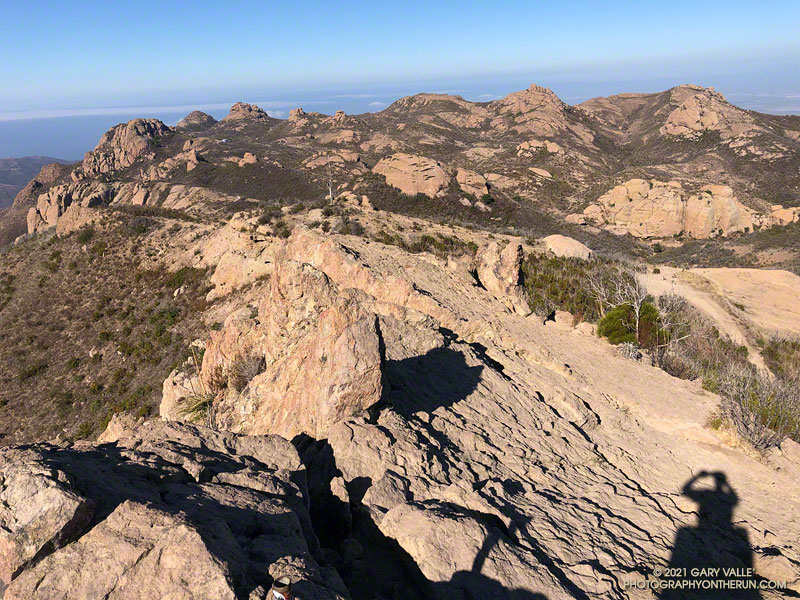 With the closure of Los Padres, Angeles, San Bernardino, and Cleveland National Forests until Thursday, I did not expect to find the summit of the highest peak in the Santa Monica Mountains empty. Even if it was by happenstance, I've rarely found the summit of Sandstone unoccupied on a Saturday or Sunday morning.
Like last weekend's run, this morning's trail run started at the Wendy Drive Trailhead on Potrero Road in Newbury Park. But today's route had a lot more elevation gain, and some steep scrambling up the rocks of Boney Mountain's Western Ridge. It's an adventurous way to do Boney Mountain, Tri Peaks, and Sandstone Peak, and get in some excellent running on a very scenic stretch of the Backbone Trail.
Overall, the route was in the best shape I've seen since the 2018 Woolsey Fire. The path that works up the north side of Tri Peaks and around the east side of its summit blocks was relatively clear. Following trailwork by the Santa Monica Mountains Trails Council, the Chamberlain Trail segment of the Backbone Trail was once again an enjoyable downhill run.
Here's an interactive, 3D terrain view of a GPS trace of my usual route (yellow) to Sandstone Peak from Wendy Drive via Boney Mountain's Western Ridge, and return via Big Sycamore Canyon. A GPS track of the Cabin trail is also shown. Variations of the route include doing the Mishe Mokwa loop after climbing Sandstone Peak; and returning to Sycamore Canyon via Serrano Valley/Canyon instead of Blue Canyon.
Some related posts: Sandstone Peak from Wendy Drive, Over Boney Mountain to Sandstone Peak and Serrano Valley, An End of Year Boney Mountain Adventure, Too Many Flowers on the Chamberlain Trail