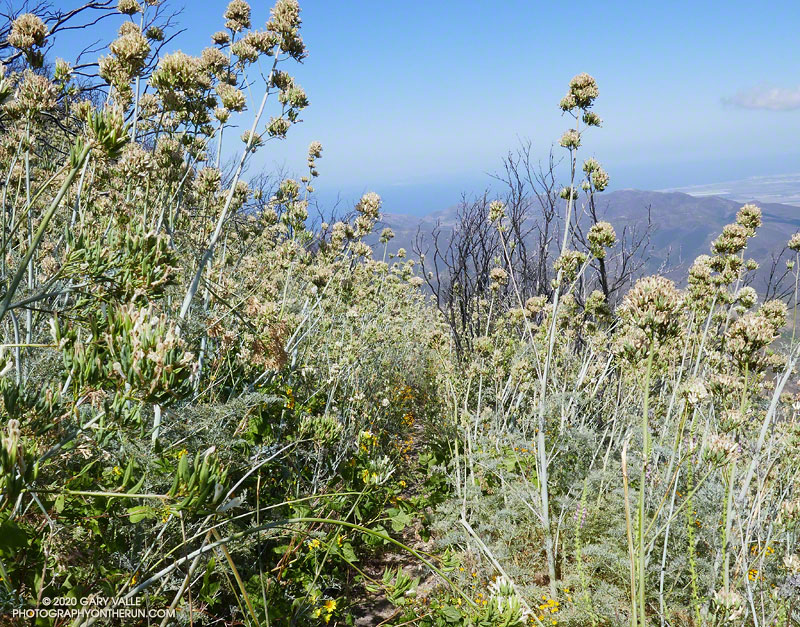 After climbing the western ridge route on Boney Mountain and scrambling over Tri Peaks, I was trying to run down the Chamberlain segment of the Backbone Trail. Usually one of my favorite downhills, the trail was so glutted with the flower stalks of bleeding heart, it made running difficult. Here's a video snapshot of one short section of trail.
During this second Spring following the Woolsey Fire, bleeding heart has become a predominant fire follower in the Boney Mountain Wilderness. Its rampant growth is reminiscent of the explosion of Poodle-dog bush in the San Gabriel Mountains the second Spring following the 2009 Station Fire.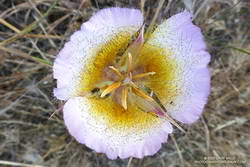 Sticky snapdragon is another fire follower that has become especially prevalent this Spring. It is truly sticky, with rose-purple-colored flowers along a long stalk.
Other wildflowers seen along the way included Humboldt lily, yellow mariposa lily, Plummer's mariposa lily, slender tarweed, and scarlet larkspur.
Some related posts: Fire Followers Along the Backbone Trail (May 2019); Wildflowers, a Waterfall, and Recovering from the Woolsey Fire (March 2019); Boney Mountain and Pt. Mugu State Park (December 2018)