More often than not when you run down a mountain, you've also had to climb up it. Not so today. Today our Mt. Diablo run started on the summit of Mt. Diablo (3849′), worked over to North Peak (3557′), and then descended the Bald Ridge, Eagle Peak and Mitchell Rock Trails to the trailhead at the Mitchell Canyon Interpretive Center and Ranger Station.
I was more than happy to save the ascent of Mt. Diablo for another day. With the AC100 just a couple months away my mileage has been on the increase. Yesterday, after driving up to San Francisco, Brett had taken me on a run on Mt. Tamalpais. Earlier today I'd done a run to Fort Point and this afternoon would be doing another run when we returned to the city.
Except for an astoundingly steep and slippery section of service road between Prospector's Gap and North Peak, today's run was nearly all single track trail. Not the "cruise downhill, don't have to think about it" kind of single track, but technically interesting single track that tries hard to find a way to trip you up and knock you down.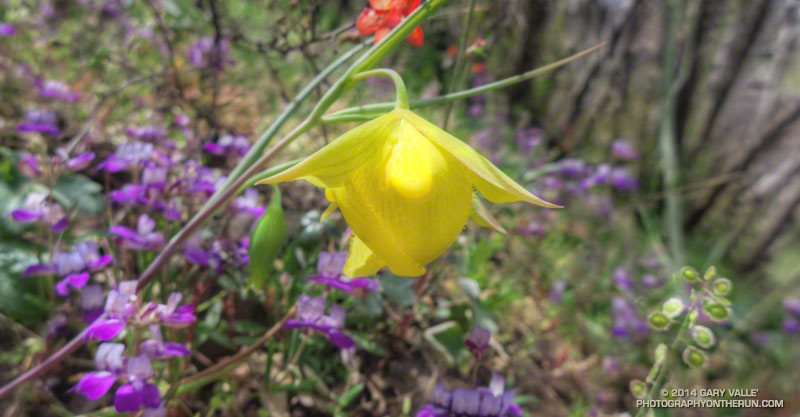 One of the reasons for doing Diablo was to see if we could find the rare and endangered Mount Diablo fairy lantern (Calochortus pulchellus). There were a surprising number (50-100) of the yellow flowers along the North Peak and Bald Ridge Trails. It might be assumed that this was due to the area being burned in the September 2013 Morgan Fire, however there appeared to be as many instances of the plant outside the burn area as inside. I think there is another explanation.
The unusual pattern of rainfall that we experienced this rain season in Southern California was replicated across much of the state, including the Bay Area. As of February 1 San Francisco Airport (KSFO) had recorded only 1.5 inches of rain since July 1 and storms in February and early March accounted for a large part of this season's rainfall.
This pattern of rainfall, sun and temperature appears to have favored wild lilies, particularly mariposa lilies of the genus Calochortus, such as the Mt. Diablo fairy lantern. The butterfly mariposa (Calochortus venustus) was very widespread on Mt. Diablo, numbering in the thousands. It appears to fill a similar ecological niche as the Catalina mariposa (Calochortus catalinae) in the Santa Monica Mountains. The Catalina mariposa was also very abundant this year, along with some other members of the Lily family.
Here are a few photos from the Diablo run.
Coastal Trail Runs and Pacific Coast Trail Runs offer trail running events that start and finish at the Mitchell Canyon Trailhead on Mt. Diablo. Brazen Racing also organizes the Diablo Trails Challenge.
For more information about Mt. Diablo see the Mt. Diablo State Park, Save Mount Diablo and Mount Diablo Interpretive Association web sites. This State Park brochure includes a trail map.
Related post: Diablo Trails Challenge 50K 2018