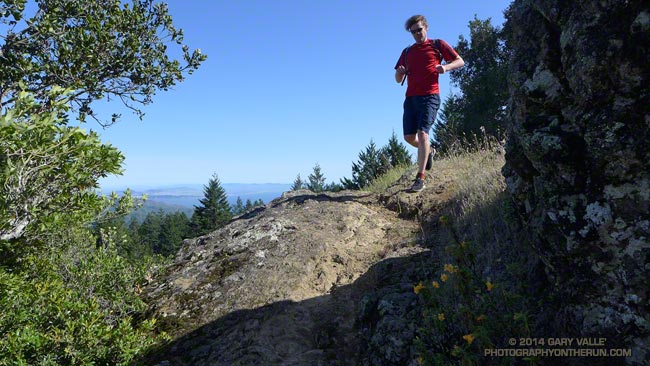 Running ahead of me at a brisk pace, Brett suddenly stopped and turned, gesturing for me to slow and be quiet. On the shaded trail ahead I could see something large and brown hunched over on the trail. It took a moment to realize that it was a big male turkey in full regalia.
We were on Mt. Tamalpais, and about a half-mile into an afternoon run from the Bootjack parking area in Mt. Tamalpais State Park. This scenic loop was the first of several runs over a too-short Bay area weekend visit. One of the innumerable loops and variations in and near the Park, our route included segments of the Old Mine, Rock Spring and Matt Davis Trails.
According to this November 2012 article in the Marin Independent Journal the turkeys were introduced into Marin County in 1988 by Fish & Game to provide hunting opportunities on private land. They have since become a nuisance and usurp resources from native species. During the birds' mating season they have reportedly frightened hikers and bikers. (I might have scoffed at that statement before seeing the size of this tom.)
It was a warm in the sun, cool in the shade afternoon with the temperature in the mid-70s. Earlier in the week an offshore flow had pushed temperatures in the Bay area well into the 90s. The heatwave produced numerous record highs, with the temperature at San Francisco Airport reaching over 90 degrees on Tuesday and Wednesday. The remote automated weather station (RAWS) on Middle Peak can be used to get an idea of the weather on Mt. Tam.
Today the winds were onshore, but the visibility was still very good. The twin summits of Mt. Diablo could be clearly seen across the bay, about 40 miles away. Mt. Diablo would be the site of one of tomorrow's runs. Rumor had it the rare Mt. Diablo fairy lantern was blooming, and Brett had planned a run on Diablo that included North Peak, Bald Ridge and Eagle Peak.
Here are a few photos from today's run on Mt. Tam. More info can be found on the Mt. Tamalpais State Park and the Friends of Mt. Tam web sites. This State Park brochure includes a trail map.