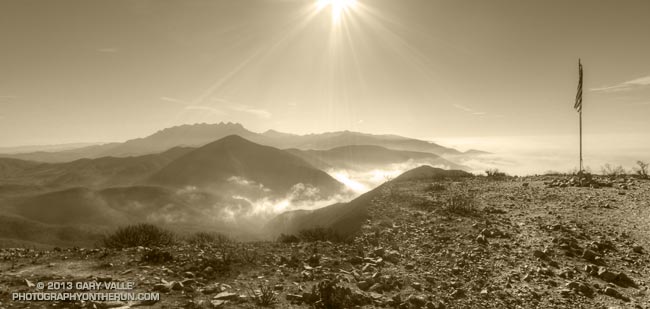 It was humid — Atlanta in the Summer without air conditioning humid. I was sopping wet from head to toe and had just wrung out my high tech shirt like it was a cotton wash rag. Sweat just wasn't evaporating.
The humidity is often low when it's hot in Southern California, but not today. I was at the Danielson Multiuse area on my way back to Wendy Drive after doing Mugu Peak in Pt. Mugu State Park. Because of its moderate elevation gain the 21 mile run (round trip) to Mugu Peak is a good one to do back-to-back with another run when training for a longer event. Today's run was a follow-up to a 20 mile run in the San Gabriel Mountains yesterday.
When I got back home I checked some Remote Automated Weather Stations (RAWS) to see just how humid it was. At the Circle X RAWS at 10:10 am the temperature was 86°F, the dew point 70°F, and the relative humidity 59%. Further inland at the Cheeseboro RAWS at 10:38 am the temperature was 91°F, the "in the sun" temperature was 97°F, and the dew point was 65°F. Those are conditions you might find in Hawaii or the Southeastern U.S. in the summertime.
The NWS uses the Heat Index as a guide for issuing alerts related to heat. In practice runners will find that the Heat Index doesn't do a very good job because it makes assumptions that don't necessarily apply to runners — for example that you are in the shade and walking. According to the NWS "exposure to full sunshine can increase heat index values by up to 15°F."
I've found the dew point to be an easy to apply indicator of humidity on hot days. If the air temperature on a run is in the neighborhood of 90°F I start to notice the humidity at a dew point of around 55°F. At a dew point of 60°F the humidity is definitely noticeable, and at a dew point of 65°F and above the humidity is increasingly oppressive.
Some related posts: After the Springs Fire: A Run Through Pt. Mugu State Park, Back on the Backbone Trail, Wendy Drive – Mugu Peak Challenge