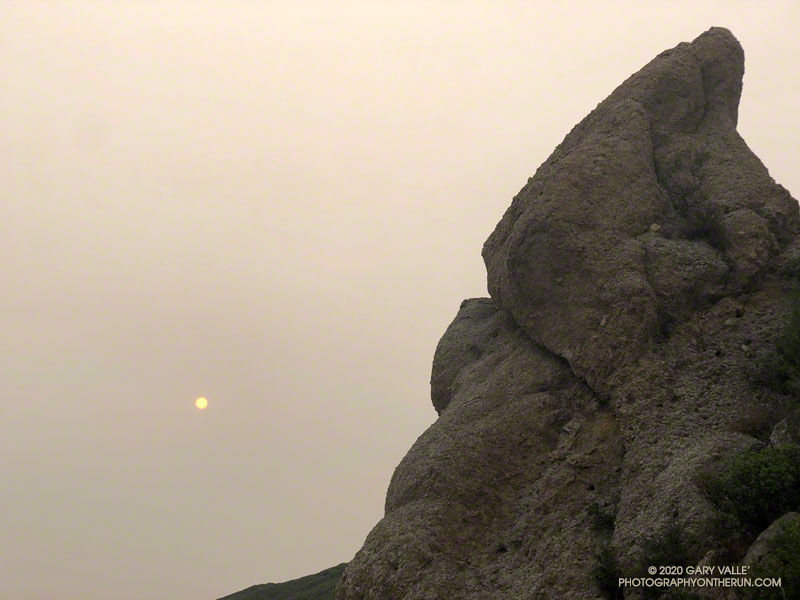 To the east, the sun rose orange, cast that color by a thick pall of smoke. From the Satwiwa Loop Trail, the view of Boney Mountain were surprisingly clear. As the air pollution sensors in the area had indicated, the air quality appeared to be passable. I hoped it would stay that way for the remainder of the run.
With all the National Forests in California closed through at least September 21, and the smoke from wildfires affecting many areas, I'd been fortunate to find a place where I could get out and stretch my legs.
I was doing a route I had done many times before — a loop incorporating the Western Ridge of Boney Mountain and the Chamberlain segment of the Backbone Trail. I'd last done the loop in June and was curious to see the condition of the Chamberlain Trail and how recovery from the 2018 Woolsey Fire was progressing.
From the top of Peak 2935, it seemed the "smoke front" to the east was slowly creeping closer. The flat, orange light was eerie. Continuing to Tri Peaks, I decided to skip the side trip to Sandstone Peak and followed the west Tri Peaks trail directly to the top of the Chamberlain Trail.
Foot traffic on the Chamberlain Trail had opened it up a bit, but there were still thousands and thousands of stalks of bleeding heart along the trail. The condition of the trail improved somewhat below Chamberlain Rock.
When I'd done the route in June, I'd seen no one until just before the junction of the Chamberlain & Old Boney trails. In June it had been a group of hikers. This time it was another runner, and we exchanged notes about the routes we were doing. Below the junction, I was surprised to find that one of the seeps on the Old Boney Trail was still wet.
After getting some water at the Danielson Multi-Use Area, I continued up Sycamore Canyon, finishing the run on the Upper Sycamore Trail, Danielson Road, and the network of Satwiwa trails.
Here are a few photos taken along the way.
Some related posts: Too Many Flowers on the Chamberlain Trail, Looking for Boney Peak, Looking for Boney Mountain