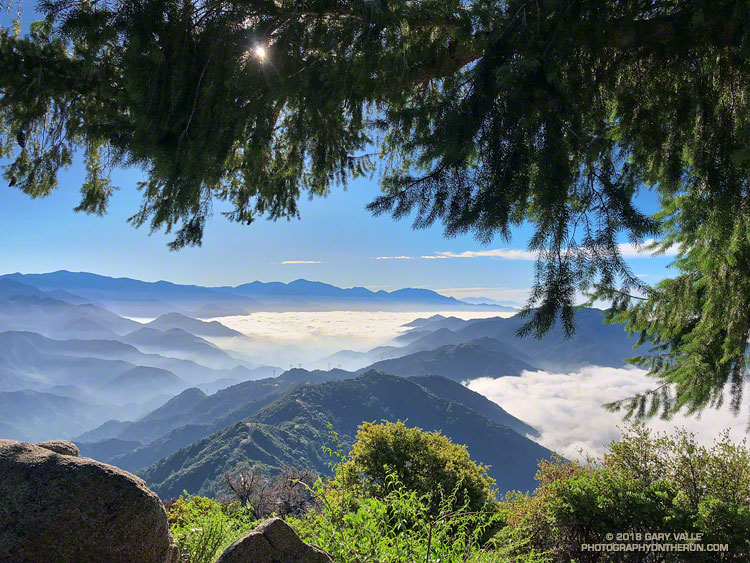 This morning's run from Mt. Wilson started with striking views of the Southern California's mountains from the Rim Trail. An extensive marine layer heightened the contrast between the highlands and the lowlands, with peaks such as Mt. Baden-Powell, Mt. Baldy and Monrovia Peak standing starkly above the ocean of clouds. Beyond Mt. Baldy, San Gorgonio Mountain could be seen, more than 75 miles distant.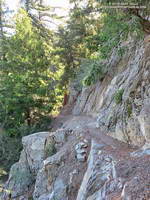 The Rim Trail connects Mt. Wilson (5710′) to Newcomb Pass (~4100′). A trail and firebreak between Mt. Wilson and Newcomb Pass are shown in the 1934 "Advance Sheet" for the the first USGS 1:24000 map of the area, the Mt. Wilson Quadrangle. The route of the trail depicted in the finalized 1939 edition of the map is essentially the same as the Rim Trail today.
The somewhat primitive and adventurous character of the Rim Trail makes it a favorite. Most often I run the Rim Trail as the first leg of a loop that follows the Gabrielino Trail down to Chantry Flat and then returns to Mt. Wilson on the Upper Winter Creek and Mt. Wilson Trails.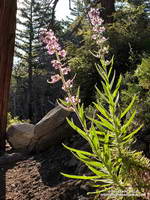 There is still some Poodle-dog bush along the Rim Trail and also on the connector trail between the top of the Kenyon Devore Trail and the Mt. Wilson Trail parking lot. As long as you see it, it is easily avoided. Poodle-dog bush is a fire-follower — in this case from the 2009 Station Fire — that can cause contact dermatitis. Here's a closer look at the flowers.
Today, instead of turning right at Newcomb Pass toward Chantry Flat, I turned left on the Gabrielino Trail, . This leads down to Devore Camp — an isolated trail camp along the W.F. San Gabriel River. (Think creek!) From Devore Camp the Gabrielino Trail is followed up-canyon to West Fork Camp and then to the Kenyon Devore Trail. The Kenyon Devore Trail is then used to get back up to Mt. Wilson. There are other variations as well.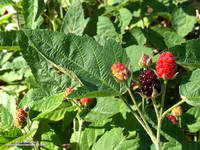 While the Gabrielino Trail between Spruce Grove and Chantry Flat is one of the most used in the range, the Gabrielino Trail between Newcomb Pass and West Fork is a rustic trail that sees far less use. On previous outings, I had not seen anyone on this segment of the trail. Today, I was surprised to find a backpacker at Devore Camp. I had to laugh when the first thing he said was, "Man, there is a lot of poison oak around here!"
There sure was…
Some related posts: Mt. Wilson – Newcomb Pass – Chantry Flat Loop; Bigcone ENSO Prediction, Poodle-dog Bush Blues, and a Surprise on Kenyon Devore; Why Won't My Smart Key Work?