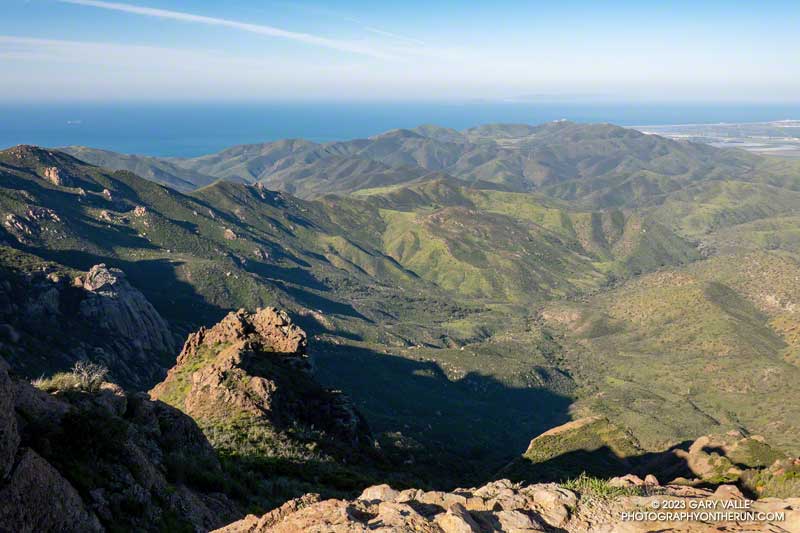 The morning was beautiful and sunny. It hadn't rained for two days, and except for a few contrails, the sky was nearly cloudless.
Earlier in the morning, I'd climbed the Western Ridge of Boney Mountain, then worked my way over Tri Peaks to the Backbone Trail. I'd been on cruise control running down the Chamberlain/Backbone Trail, enjoying the pleasant weather and wide-ranging views.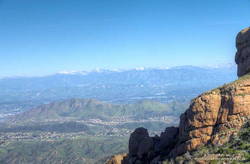 Passing a gap in the ridge, I was surprised to see a person on the hillside, a few yards below the trail. It was an odd place to be.
The person was partially hidden by grass and brush, and all I could see was their head and shoulders. They were wearing an odd helmet and were busy working on something that looked like a pack. I didn't see a mountain bike.
None of it made sense. Was it someone doing the Backbone Trail? Had they slept there overnight? What was with the helmet? Reaching the end of the Chamberlain Trail, I turned right on the Old Boney Trail and continued the descent toward Blue Canyon.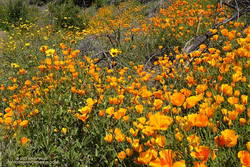 Partway down, I heard the clap-clap-clap of helicopter blades approaching the canyon, and that's when it all fell into place. The mysterious person along the Chamberlain Trail was a SAR crew member.
The helicopter was yellow, probably from the Ventura County Sheriff Search and Rescue Aviation/Medical Team. I've seen them in the area a number of times doing exercises.
This wasn't the first time I'd seen something strange from the Chamberlain Trail. A few years ago, I'd noticed an odd-looking object below the Chamberlain and Old Boney Trails junction. It turned out to be a rescue manikin strapped onto a litter. Practice makes perfect, and exercises help ensure the safety and success of demanding SAR operations.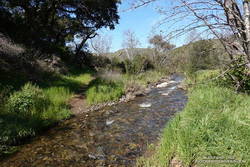 Farther down the Backbone Trail, there was a striking display of California poppies and bush sunflowers on the hillside above the junction of the Backbone and Old Boney Trails. After photographing the poppies, I returned to the Backbone Trail and entered Blue Canyon. To this point, I'd managed to keep my shoes and socks dry. But that was going to end.
I'd done a similar route in January, partly to see the condition of the Chamberlain, Blue Canyon, and Upper Sycamore Trails. That was the case again today. In the two months since the January run, nearby Circle X has recorded over 13 inches of rain. Not surprisingly, that has resulted in more water in the streams, more wildflowers along the trails, and a bit more eroded and rougher trails.
Some related posts: Looking for Storm Damage in Point Mugu State Park, Pt. Mugu State Park Debris Flows and Flash Floods (2014)