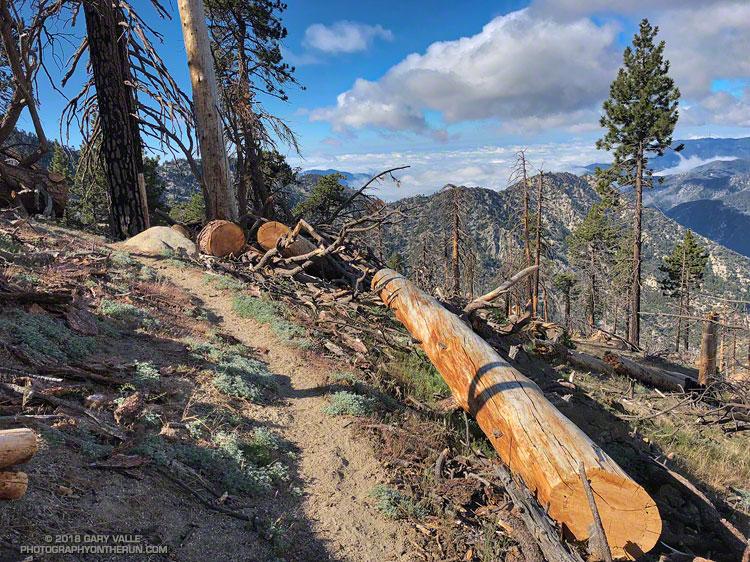 The weather was surprisingly cool for a Memorial Day weekend in the San Gabriel Mountains. At Three Points (5925′) the temperature was a brisk 43°F when I started my run, and it remained in the 40s as I worked up the Three Points – Mt. Waterman Trail toward Twin Peaks and Mt. Waterman. The trail from Three Points is a long-time favorite and part of an adventurous — and scenic — 20 mile loop around Waterman Mountain.
In 2009 the Station Fire ran up the ribs and gullies of the south face of Mt. Waterman, ravaging some slopes, but leaving others untouched. Many trees were killed, including some old growth incense cedars and Jeffrey pines. On a run in March 2017 I counted more than 40 dead trees down on the trail. At that time a few trees had already been cleared from the trail and in the following months many more would be.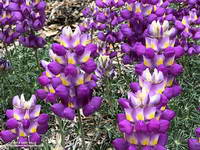 One particularly hard hit area is about a half-mile west of the Twin Peaks Trail junction. Last Summer dead trees blocked the trail in this area and in places were stacked one on top of another. The title photo is of the same area after the trail was cleared.
On a previous run I'd photographed the growth rings of a burned Jeffrey pine above the Twin Peaks Trail junction and estimated the total at about 325. Today, a recently cut Jeffrey pine just west of the Twin Peaks Trail looked like it might be considerably older. A very rough count of its rings totaled 475.
On this run the Three Points – Mt. Waterman Trail was almost entirely clear of trees and in the best condition I've seen since the Station Fire. Many thanks to Alan and the SoCal Hikers & Trail Builders for restoring this trail!
Here are a few photos from the run.
Some related posts: Downed Trees, Melting Snow, and a Waterfall; Three Points Loop Plus Mt. Waterman; After the Station Fire: Pine Seedling Along the Mt. Waterman Trail