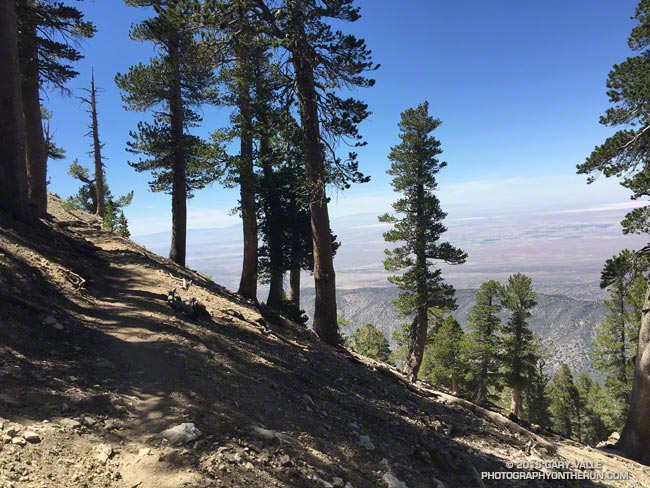 Switchback after mind-numbing switchback you work up the mountain. White firs and sugar pines give way to lodgepole pines and then the forest begins to thin. Views of the high desert stretch out to Edwards Dry Lake and the Southern Sierra looms hazily in the distance.
This mountain, Baden-Powell, is the second of several big climbs on the Angeles Crest 100 Mile course. While it reaches the highest elevation on the course — about 9250′ — it is not the longest climb or the ascent with the most elevation gain. Which climb on the course is the most difficult is an all together different question, and one that can only be answered on race day.
This elevation profile of the AC100 course (PDF) was created in SportTracks, using elevations corrected with pkan's Elevation Correction Plugin and NED 1/3 arc second DEMs and a conservative elevation data smoothing setting. The GPX file analyzed is Rainer Schulz's from 2013.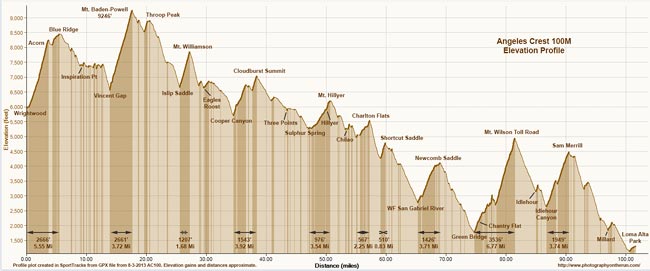 The profile is similar to the one found in the AC100 Racebook, but includes info on some additional climbs. There are also some differences in the elevation gains and lengths of certain climbs. The Acorn climb was extended to include the ascent to the high point on Blue Ridge. The mileage is from the GPX track and differs from the official mileage. Placemark locations, mileages, and elevation gains and losses are approximate.
Using the corrected elevations, the cumulative elevation gain on the AC100 course worked out to around 20,875′ and the loss to around 25,515′. The gain and loss could easily be a bit more.
by