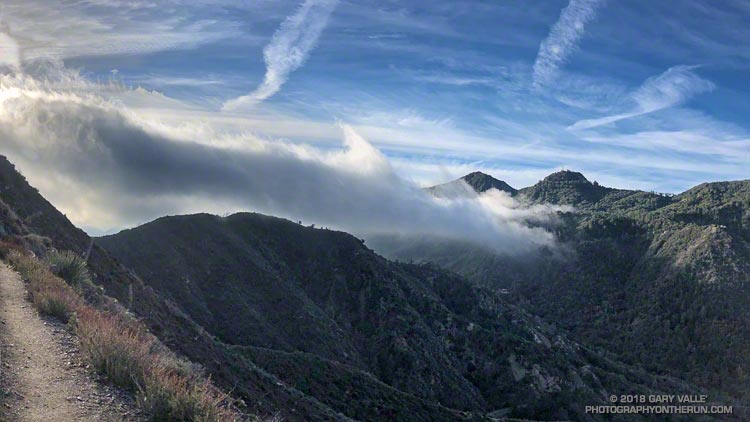 Unlike most of the rainy season, March rainfall has generally been above average in Los Angeles, Ventura and Santa Barbara Counties. Last Saturday I'd enjoyed a run in Pt. Mugu State Park following a few days of wet weather, and today my outing would be in the wake of the strongest storm to affect the  area since January.
I was in the San Gabriel Mountains, and doing a get-your-hear-rate-up combo run I did last year — ascending San Gabriel Peak and Strawberry Peak from Red Box. The duo are the two highest peaks in the Front Range of the San Gabriel Mountains and have been popular for many years.
The storm had been a warm one, with high snow levels, and I was surprised to find the morning temperature at Red Box in the mid-30s. The surface low and trough associated with the storm were still along the West Coast and the circulation was creating a strong southwesterly flow. This was pushing mostly benign mid-level clouds into the valleys and mountains. More picturesque than threatening, the clouds imparted a high mountain flavor to the surroundings.
Last year I'd done San Gabriel Peak first, so today I started with Strawberry. It's the more difficult of the two peaks. The route to its summit is about a mile longer; it has a bit more elevation gain; and it includes a stretch on rough, steep, unmaintained trail. Of course, that's part of its appeal.
The clouds were ever changing. While Strawberry Peak escaped most of the clouds, San Gabriel Peak was often obscured.
Here are a few photos taken along the way.